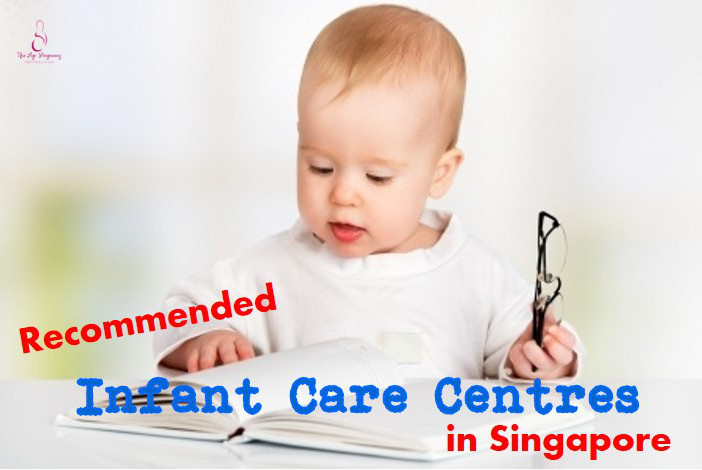 If you and your spouse are both full-time employees, at around 3 months after your baby's birth, you will have to make arrangements for alternative caregiver while both of you are at work. One option is placing your baby in an infant care centre, which accepts babies from 2 to 18 months old (beyond 18-month, it will be under childcare within the same centre). A few basics in the choices of infant care centres are:
1. Programme. A full-day (from 7am to 7pm), or half day (from 7am to 1pm or 2pm to 7pm). Some centres offer half day care from 7am to 2pm on Saturday. Not all centres offer half-day care and it is proportionately more expensive than full-day care.
2. Availability. You may be surprised that some centres are fully booked and there is a waiting list. If you are sure that you'd be enrolling your baby in an infant care centre, you should start to survey the centres and reserve a slot early.
3. Cost. This ranges from S$1,000 to S$2,000, with an average of about S$1400. The amount stated in the childcarelink.gov.sg link is before childcare subsidy which is typically S$600. Additional subsidy is available if monthly household income is lower than $7,500.
4. Learning/Teaching Approach. You can ask what programs they have for infants and also look at the curriculum the centre has for playgroup, nursery and kindergarten children. There are some centres that focus on academic, others that focus on play, project work or offer a second language (not all second languages are available).
5. Teacher-child Ratio. Some infant care centres adopt a smaller teacher to child ratio, providing attentive care and love for their students.
A quick look at some of the more common infant care centres in Singapore:

PCF Sparkletots
PCF Sparkletots is under PAP Community Foundation, where services such as infant care and senior care are provided. Their curriculum focuses on a few key areas, namely aesthetics & creative expression, discovery, self & social awareness, literacy, numeric and motor skills. There are 96 infant care centres under PCF Sparkletots island-wide and the fees range from about $1.1k to $1.8k.
Website link: www.pcf.org.sg

NTUC – My First Skool/ Little Skool-House
My First Skool is the childcare arm of NTUC (National Trades Union Congress) First Campus Co-operative Limited. The curriculum for infants is under their Skool-Educare© Curriculum, focusing on development of sensory, motor and self-help skills. There are 87 infant care centres under My First Skool island-wide and the fees range from about $1.3k to $2k with most of the centres charging $1.3k.
There is also a premium brand under Little Skool-House International which adopts a relation-based approach that covers developing the Psychosocial Self, Physical Self and Thinking and Communicating Self. There are 4 infant care centres under Little Skool-House International at a fee of S$1872.
Website link: www.myfirstskool.com
Website link: www.littleskoolhouse.com
The team at Kinderland Infant Care strikes a great balance in helping these children learn through developmentally-appropriate activities and discover through self-exploration. They believes in raising children who are creative in their thinking and are strong and independent problem-solvers. With 4 infant care centres to date, the school fees range from $1320 – $1920.
Website link: www.kinderland.com.sg

Cherie Hearts
There are 14 infant care centres under Cherie Hearts, with fees ranging from $1.4k to $1.7k. Cherie Hearts has a My First Journey Curriculum that develops areas in language and communication, cognitive, social, emotional and physical self.
Website link: www.cheriehearts.com.sg

Montessori
There are 11 infant care centres under a search of 'montessori' at child care link, with fees ranging from $1.4k to $2.1k. The Montessori and Thematic Curriculum aims to develop a child's thinking, independence, social and learning skills.
Website link: www.modern-montessori.com

Learning Vision
There are 9 centres under Learning Vision that offer infant care, 3 of which are available only to staff located within the building. Their infant curriculum is designed on the basis of holistic development that includes emerging physical, sensory-motor, perceptual, cognitive, language and social-emotional skills. Learning Vision offers a variety of activities such as baby art, baby gym, music and sensory play. The infant care fees are $1,800 for full-day care.
Website link: www.learningvision.com
Some other brands of infant care centres and their website links:
1. Carpe Diem 4 infant care centres Fees $1.7k to $2.0k
Website Link: www.carpediem.com.sg 
2. Mulberry 3 infant care centres Fees $1.6k to $1.7k
Website Link: www.mulberrylearning.com 
3. Pat's School House 2 infant care centres Fees $2,161
Website Link: www.patschoolhouse.rtrk.sg
To decide on the centre, nothing beats making an actual visit and talking to the teachers and caregivers. Call ahead to schedule and visit during the nap time so that the teachers have more time to talk to you and you can get a better feel if you can entrust your baby to their care. In Singapore, parents are entitled to additional subsidies, talk to the school staff to find out what kind of subsidy your child is entitled for!
By Mei