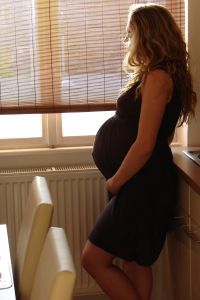 Pregnancy hormones are typically blamed for the whole avalanche of emotions that many mums-to-be experience in the months leading up to baby's birth, and the first few weeks post-partum. Mingled in with the excitement of becoming a parent, the joy of finally having a baby of your own, the stress of planning and buying all that's needed for the new arrival, is a fair amount of fear and trepidation.
In reality, at least one in ten women suffer bouts of depression or anxiety during their pregnancy. Some may feel overwhelmed with negative thoughts or fears, that stem from a range of causes, and fluctuate from mild worry to overwhelming anxiety. Medical experts believe that the rapid increase in hormone levels at the start of pregnancy can disrupt brain chemistry, accounting for your 'blue' mood.
Please take care of your emotional health! If you feel unable to cope with day-to-day life, or are having thoughts of self-harm, call your immediately for a referral to a counselor who can help you. All that said, it's only natural to have some fears, especially as a first-time mum. The following are some heartfelt fears shared with us by some mums.
I feared not being able to take care of the little life placed in my hands. I remember the relief my husband and I felt after surviving the first night when our baby came home with us from the hospital. But I'm not just talking about the physical "taking care" of a child, but also how to properly bring him up. I'm so keenly aware of my weaknesses and failings (more so now with a kid!), that it's hard to imagine how my baby would be affected by the negative ways I might relate to him.
Liling, 28
My biggest fear, quite honestly, was the whole labour process! I've always been squeamish about going to the hospital, and what's more, having needles poking in and the possibility of an emergency C-sect, not to mention contraction pains… One of my prayers every night was 'Dear Lord, please let me have a smooth delivery and no complications, and please, no op!'"
– Dorothea, 32
I think that I worried about whether my marriage would be affected by having a baby to look after. Now, on hindsight, it has never been better!
– Candy, 31
I was really worried that that my baby's head would be too big for me to have a natural birth!
– Wei Yee, 28
My biggest fear was that the child would not be healthy. My gynae reassured me throughout my pregnancy, but fears were still there nevertheless.
– Hillary, 32
I had this worry that my first baby wouldn't have ten fingers and ten toes. Same worry with #2…and he came out with a super-numeral! My hubby said God has such a sense of humour!
– Chris, 33
I was fearful about unsuccessful breastfeeding.
– Poh Ling, 32
I feared that the labour process would be long and painful, & that I would not be able to cope with breastfeeding. Unfortunately, both my fears came true! I am thankful I could overcome the many challenges with my #2.
– Clydia, 29
Actually before giving birth, I had no fear. It was more like YES, I'm going to be THE BEST parent and nothing is going to stop me! Well, when baby finally came out, that was the time I felt that I was a total failure, especially when he cried uncontrollably…
– Kelly, 36
I worried about losing personal time alone with the hubs; there was also the fear of the unknown challenges ahead, fear of not being sure if i could be a good parent myself. I remember sitting on my bed an hour before admission into the hospital, thinking "This will be the last hour we have in a quiet house all by ourselves – the next time we come back, we will be a family of 3" That was surreal.
– Yvonne, 30
What are your greatest fears? Do share them with us in the comment box below.