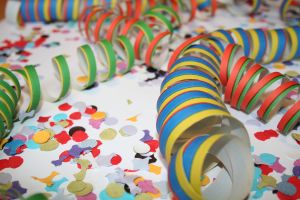 Party planning is always fun, but state-of-the-art decorations can sometimes burn a huge hole in your pocket. Fret not, here are some economical ways to dress your venue up to the nines with minimal spending and maximum fun!
Crepe paper
It's inexpensive, comes in a myriad of colours (even silver and gold!) and is easily available at most stationery shops islandwide, such as Popular and Evergreen.
Pom poms
Suspend big poofy balls from your ceiling lights or make daintier ones and string them up to make a bunting. Great for dressing up the room or creating an enchanting entranceway.
Tutorials here: http://www.youtube.com/watch?v=bfork_fpbWc AND http://www.youtube.com/watch?v=lmGZ6Y_1LDI
Streamers
Simply cut strips of paper from the unrolled crepe paper, then unravel them to create long streamers that you can drape from window frames, curtain rails and along your walls using 3M removable-hooks. If you've got time to spare, and a sewing machine in your home, try making ruffled paper streamers for added pizazz!
Tutorial here: http://www.youtube.com/watch?v=T8jIeml7b9w
Confetti
Couldn't be easier, and it's something your kids (who are trained to use a scissors safely) can help you with! Simply cut up all your crepe paper into as tiny pieces as possible. A variety of colours would be great for that rainbow effect! Fill up little goodie bags with colourful confetti for your guests to fling around when it's cake cutting time! Or use them to fill a large glass bowl for a unique and ultra-simple table centerpiece.
Chains
We've all made something like this in our school days! Again, you can enlist the help of your family to do this, factory chain style. One person cuts strips of paper, another holds it in place, and another staples the loop closed. Teamwork, and a beautiful chain to admire and adorn your space.
Tutorial here: http://www.youtube.com/watch?v=5_f484MQQx8
Tassel garlands
Tassels are pretty much the "in" décor at the moment! And now you can make your own, which you can keep for many parties to come! The process is a bit tedious, but once you get used to it, you'll be churning out these cute little bundles every chance you get! Old tablecloths or shower curtains offer great raw material for this craft too.
Tutorial here: http://www.youtube.com/watch?v=-A4aan9dD48
Magazine paper
Most of us have a stack of magazines lying somewhere around the house. Sometimes, it's more like several piles, if we're being honest! Put that paper to good use, unless, of course, you want to keep it intact for sentimental reasons.
Pennants
It's simple to make but a banner of this around the room instantly elevates it to party mode. If you don't have a hot glue gun, UHU glue, scotch tape or washi tape will do just fine.
Tutorial here: http://www.youtube.com/watch?v=gdAk-6KjJAA
Bows
This is a great way to dress up doors and table tops. Pinch the middle of the sheet of paper so that you get a ribbon shape. Hold it in place with a strip of paper or ribbon. You can make a big bow for your front door, or make small-medium ones that can be stuck to paper straws and popped into bottles or cups for a unique table décor.
Rosettes
Gone are the days when rosettes were reserved only for horse competitions and the like. Use them as name tags for your guests, or to dress up party packs. You can also glue them to party hats!
Tutorial here: http://www.youtube.com/watch?v=R0zfThXCkMs
By Dorothea Chow