On this special day, your child deserves the best birthday cake he or she could ever dream of! Frozen or Barbie theme cake? Cars or Train theme cake? Cupcakes or 3D cakes? We have it all prepared for you! 12 places to get your child's dream cake for their party, you might even want to get one for yourself too!

1.Swensen's
When I say ice cream cake, Swensen's will always be the first to come to my mind. With more than 20 delectable flavours, it is the household name when it comes to celebrating special occasions with family members and close friends. To add icing to the cake, they have a wide range of Disney-themed varieties that will bound to delight the young ones especially the Frozen Fans out there! Check our their 8 new ice cream cake designs featuring the beautiful Queen Elsa, Princess Anna, Olaf and the others!
Plus point: Halal Establishment
Photo credit: Swensen's
Website: http://www.swensens.com.sg/
Address: 23 outlets island-wide
2. Sensational Cake
Sensational Cake is an online based Cake Shop that do customization according to yours or your children's needs. They live by the slogan "Matching Cakes & Cupcakes for every occasion", thus you can find a wide range of cake designs in 2D and 3D form. Or simply, produce your drawing and theywill be able to create one that your child love!
Photo credit: Sensational Cake
Website: http://sensationalcakes-online.blogspot.sg/
Email: scake88@gmail.com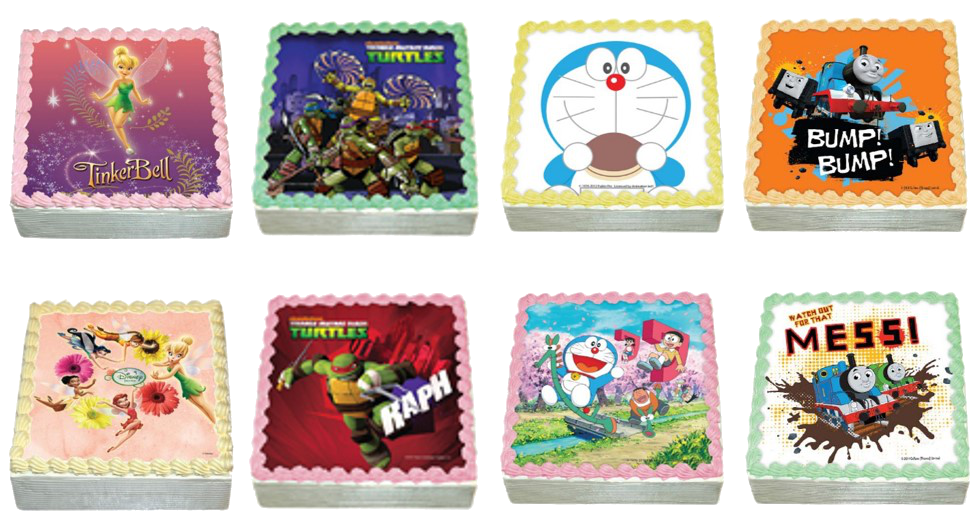 3. Polar Puffs and Cakes
Simple and fuss free, Polar Puffs and Cakes is the choice when you needed something quick or in a rush. The character cakes are popular among children – it won't go wrong!
Polar Puffs and Cakes has a good selection of famous cartoon character cakes such as Angry Birds, Looney Tunes, DC Heroes, Ninja Turtles, Tom & Jerry and many more. To date, they have outlets at almost every part of the island, which makes purchasing and ordering much easier than expected.
Photo credit: Polar puffs & Cakes
Website: http://www.polarpuffs-cakes.com/
Address: 24 outlets island-wide
4. Cupcake Momma
Why go for the norm when you can have something equally special and fun for your little one? Cupcake Momma started her divine cupcake creations since 2005 and is well-considered as a veteran when it comes to creating cute and yummy cupcakes for both the kids and adults. Look through her Facebook albums and you'll be spoilt for choices!
Plus point: halal certification.
Photo credit: Cupcake Momma
Website: https://www.facebook.com/CupcakeMommaSG
Address: –
5. The Patissier
The Patissier is a Singapore-grown patisserie that takes strong influences from traditional French baking techniques to create innovative and sweet delights. They are especially strong in design and presentation of their cakes, thus they may not come cheap. But rest assured, cakes from The Patissier are quality options to throw a lavish birthday party for your little one!
Photo credit: The Patissier
Website: http://www.thepatissier.com/
Address: 4, Mohd Sultan Road #01-01 S(238955)
6. Delcie's Desserts and Cakes
Opt for healthier cake options with Delcie's cakes. Delcie's philosophy of using organic ingredients to bake organic, egg-free, dairy-free yet nutritious cakes really won the hearts of many! The idea of eating a healthier cake is something that really excites all of us!
Plus point: Suitable for vegans.
Photo credit: Delcie's Desserts and Cakes
Website: http://delcies.com/
Address: Blk 34 Whampoa West #01-83 Singapore 330034 (map) Boon Keng MRT Exit B
7. Four Leaves
Four Leaves is one of Singapore's leading chain bakeries, and they provide reasonably-priced cakes. While not as ornate as some of the others, you can get to choose from 2D cartoon cakes that starts from $41 for a 21 cm size, to smaller 3D cakes from $69 onwards. Their regular cakes come in a variety of sizes too. Four Leaves is a fantastic alternative for those that are looking for great taste with a budget. Try their all-time classic flavour, Strawberry Shortcake. Yum!
Photo credit: Four Leaves
Website: http://www.fourleaves.com.sg/
Address: More than 28 branches around Singapore.

8. E-creative Group
The group has a rich history dated way back to 1993. To date, E-creative is one of the popular choices among parents when it comes to beautifully elaborated birthday cakes for their children. Besides, the group is also a one-stop solution, that provides catering needs for a birthday party.
Photo credit: E-creative Group
Website: http://www.ecreative.com.sg/
Address: 15 Woodlands Loop #04-33/34 Singapore 738322
9. Smiling Orchid
Smiling Orchid is one of the more reputable brand that makes great cakes at reasonable prices. Plus point: they are also a full-service catering company that can handle all your needs for throwing an amazing birthday bash for your little one!
Photo credit: Smiling Orchid
Website: http://www.smilingorchid.com/
Address: Block 25 Ghim Moh Link #01-05, Singapore 270025
10. Fresh Bakes
Fresh Bakes is a small family business that blossoms into reality. Started in Year 2010, they provide mouth-watering customized 3D cakes and pastries suitable for all occasions. The cakes at Fresh Bakes are not just pretty and lively, but also their belief of using less sugar and no added preservatives, makes their cakes so appealing!
Photo credit: Fresh Bakes
Website: http://freshbakes.com.sg/
Address: 520 East Coast Road, #01-01 Ocean Park Oranda Singapore 458965
11. Cake Funtasie
"Cake Funtasie creates exquisite customizable cakes and desserts with a modern whimsical touch. Your order is made fresh, with an emphasis on flavor, texture, and presentation. Everything is made from scratch; the cakes, icing, purees. As your own personal baker, Cake Funtasie always desires to satiate both aesthetic and gastronomical desires."
Photo credit: Cake Funtasie
Website: www.cakefuntasie.com
Address: 156 MacPherson Road Kitchen Lab 1 #01-01 S348528

12. Pine's Garden
If you think that Pine's Garden is just another traditional bakery house then you might be in for a surprise! At Pine's Garden, the team creates exquisite designs from the modern 3D cakes to the traditional ones at affordable rates. You can even personalized the cakes to your liking.
Photo credit: Pine's Garden
Website: http://www.pgcake.com/
Address: 529 Ang Mo Kio Avenue 10 #01-2369 S(560529)
Written by: Tan Yiying and Crystal Tan