Are you transiting your child from bottle to cup? Are you afraid of spills and yet still want your child to gain independence? 
Yes, you can do it with children's most favourite character – Elmo and parents most trustable brand – Munchkins. Sesame Street Emo Trainer Cup will be your child's forever friend!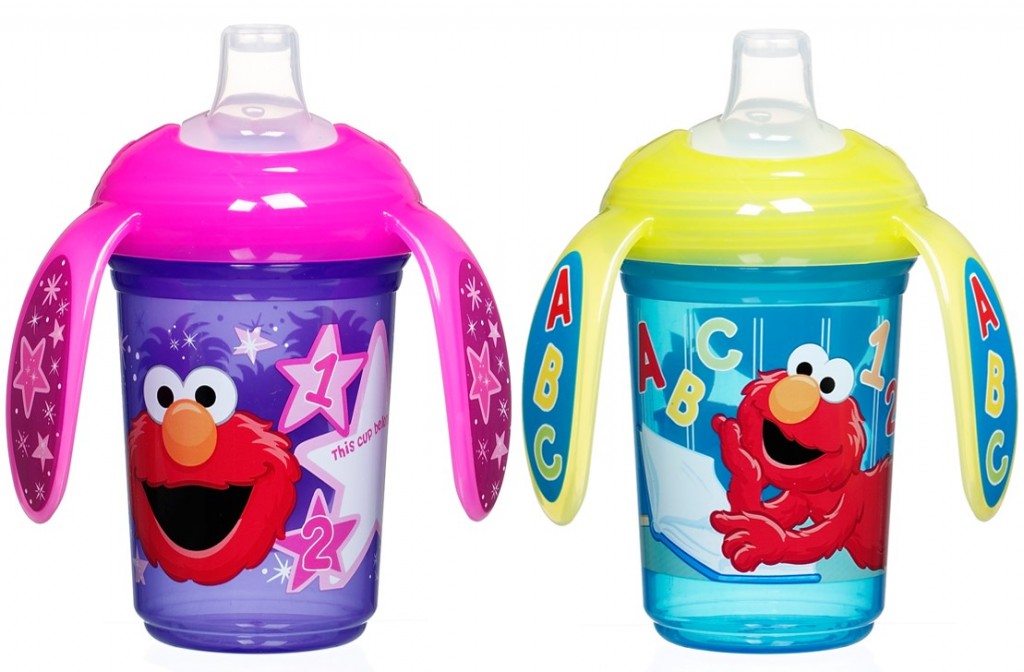 Leave the bottle behind is not difficult at all!

Many parents struggle with transiting their children from bottle to cup for many reasons –
1. They are afraid of spills and mess especially when the cup falls off their child's hand
2. Their child has been so used to the soft teats of a bottle in which they find comfort in.
3. Trainer cup has been dull and boring for their children.
Not so, after your child has their first try in Munchkins Spill-proof trainer cup!
Why Munchkins Spill-proof Trainer Cup is the perfect choice for young children?

We heard about BPA and how harmful it is for children. We love how this product is BPA-Free and safe for children. Besides,
Elmo is children's best friend.
It is a fun and clean way to leave the bottle behind
The unique leak-proof top guarantees there won't be a mess if it tips over or falls to the floor.
It comes with easy-grip handles, suitable for their little hands to hold and grasp.
The soft spout is gentle on their sensitive gums.
It is suitable for children age 6 months and above
Check out the testimonial from the parents:
"Cute, Bright colors, good design, fun. good quality. Easy To Hold And It Doesn't drip. She never had Elmo cups before and she is very happy."
– Patricia Paiz
"My son is 22 months and absolutely loves his Elmo. This cup is spill-proof and provides good gripping handles for any kid on the go."
– unknown
"This is the only sippy cup my son will use. I have looked for it every where and i couldnt find it. Thank u for having it!"
– Nadia
"This is the best cup you can use when weaning off a bottle. I got this for my daughter at 11 months and after 2 days of practice she was really good at drinking an entire feeding from the cup and was done with a bottle. I tried 5 other cups before this. It also helps that she loves Elmo! The handles are perfect place for little hands. The spout is soft and fits their mouth. The cup is easy to clean."
– Crystal
"My girl used the cup n she likes to hold the 2 handles . Easy to grip cup and colourful pics to encourage her to try to be interested in drinking water . No leaking of water."
– Lim Poh Lian
"Kudos to the usage of bright colours and all times favourite sesame streets character that attracts my son's attention the moment he first set sight on the trainer cup. He keeps patting his little hand on his chest and says 'my…my!' :D. The handles are just the right size for his little hands to grip on and the spout is soft and it fits his mouth perfectly. Also it does not cause pain to his gum and teeth. We loves that it is spill – proof as the water does not spill on him when he lays down to drink from the trainer cup! /he masters the art of drinking water from the trainer cup, a good transition from milk bottle to cup eventually."
– Jasmine Koh
"When my baby saw the Elmo cup for the 1st time, he seems to love it very much. I think it's because of the bright colorful cup and the toddler friendly handler. He was struggling a bit at first to sip from the bottle. But after a few attempts, he successfully used the bottle to drink. Now he refuse to get his hand off it, drinking water now is a ease now!"
– Sarah Chan
.
"When we saw the striking purple, with beautiful Elmo character print, it's really very attractive and my gal fell in love with it immediately. She was so eager to use it, not even allowing us time to wash it. Hahaha… Of course, we managed to wash it and added plain drinking water in it, she started sucking from it happily. I realised she would stop and start drinking from it On and off. (When using teat bottle, she would normally drink it without stopping,) despite this difference, it doesn't give us any problem, coz she is still able to finish up the water without fail. The especially good point if this training cup is the non spill feature, as it allows her to drink from it standing, sitting and even lying down. She has been drinking from it everyday since the very first day, to drink water and honey. So far, she has tried a few other training cups, but none of them lasts this long."
– Liu Jiali
Specially sponsored by Infantino