Combi Mama Class 2015

Thank you to the Daddies and Mummies who came down to our Combi Mama Class! Can you spot yourself in the video?

Posted by Combi Singapore on Wednesday, November 18, 2015
It's normal to feel overwhelmed and nervous being a first time parent. There is simply so much to learn and do! Which is why educational parenting workshops such as the recent Mama Class by Combi comes in handy as new parents can prep themselves with the necessary knowledge and methods.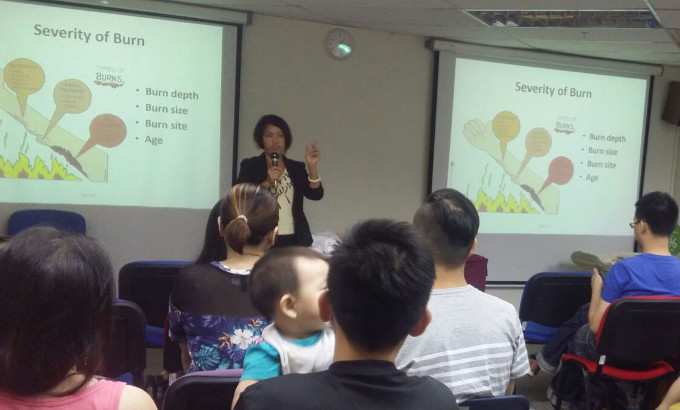 Mrs Wong Boh Boi, Senior Parentcraft Educator from Thomson Medical Centre, covered the basics of first aid care and how parents can better care for their newborn child. With over 20 years of experience under her belt, she has taught many young couples in Singapore in her popular antenatal classes. Over 20 parents attended the class at International Plaza on 17 October.
Basic First Aid Training for Mums and Babies
In the first part of the workshop, Mrs Wong listed the common accidents that happen at home, what parents should do when such accidents occur. Common injuries include burns, wounds, fractures, sprains, fever, fits, falls and asthma. She also stressed on home safety and warned parents to never leave a child in the bathroom. "Drowning is one of the most common accidents that happen at home. Babies and children can drown even in one inch deep water."
After showing parents how to save an adult, pregnant mother or child who is choking, she encouraged parents to find a partner and try it. She also invited parents to practice performing CPR on the baby dolls she brought.
Mrs Wong demonstrating how to perform CPR on a baby (left) and what to do when a child chokes.
Caring for your Newborn in the first few months
After the break, Mrs Wong talked about the physical and mental needs of a baby. On the physical aspect, parents need to understand and decode and respond appropriately to their baby's cries. To ensure a healthy mental growth, babies need to be stimulated. Her five-way approach to stimulate a baby is through massage, music, movement, communication, and play.
While baby is still in a mother's womb…
Start communicating to your baby even before they are born. Babies can hear even when they are in their mother's womb.
Play classic music to the babies at the background, but periodically and not more than 15 minutes. She cautioned not to place the earphones near the tummy.
When baby is born…
Tummy time: Allow babies to be on their tummy for at least 3 times; 15 minutes per day
Massage your baby. Touch is very powerful in forging strong bonds with your baby. This will also make separation easier in the future.
Mrs Wong went on to give a live demonstration on different massages and exercises they can do with their baby.
Tips and tricks to soothe an agitated/crying baby:
Learn how to swaddle your baby properly as it will help to calm them down
Recommended periods to swaddle is about 3 to 4 months at night, and once a week during the day
Use the Cradle position to soothe an upset baby
Use the side cradle to calm an over-excited baby
Mittens should not be worn for more than 6 weeks as babies need to touch and feel with their fingers
After Mrs Wong ended with her workshop, Mr Tom Chang, Senior Manager of Sales and Marketing Dept. from Combi shared insights on choosing a suitable stroller. "The most important thing is to imagine your lifestyle and environment. Also, remember that the stroller is not just for your baby, you as a user is as important.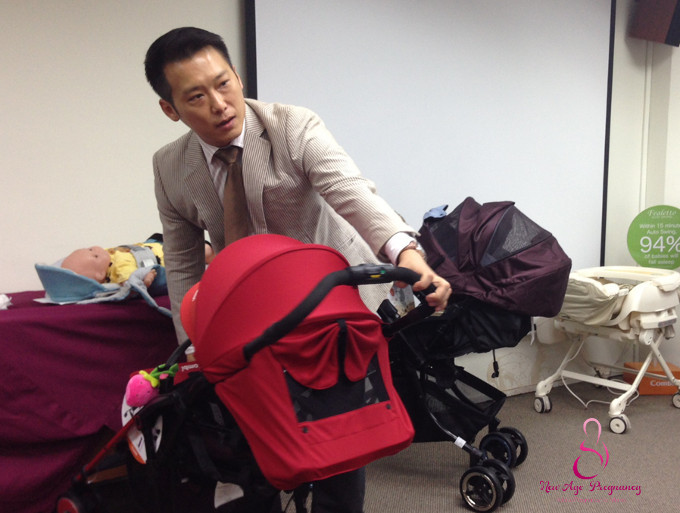 Mr Tom Chang, Senior Manager of Sales and Marketing Dept. from Combi showing parents what are the useful features to note in a stroller.
"You may choose any stroller you like, but don't forget if you have to carry the stroller up the stairs when you go home or shopping, or travel by taxi, are you able to hold the baby in one arm and fold the stroller if you happen to be by yourself? Make sure you physically visited a professional baby store and experience the stroller, play with it, do not be deceived by the look, use it, then you know it." Mr Chang told the audience.
Wendy Yun, 31, a mother of one who has an eight months old baby found the workshop to be very beneficial. "I learnt about useful first aid information and massage techniques for my baby. The rapport and interaction Ms Wong had with the audience was great, it made it more interesting!"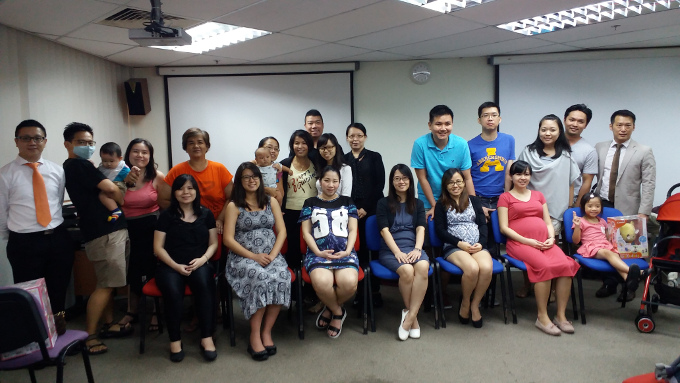 The Combi Mama Class concluded with a lucky draw and photo taking session. Parents also walked away with a Combi goodie bag worth $50.
For more information on Combi, go to www.combi.com.sg