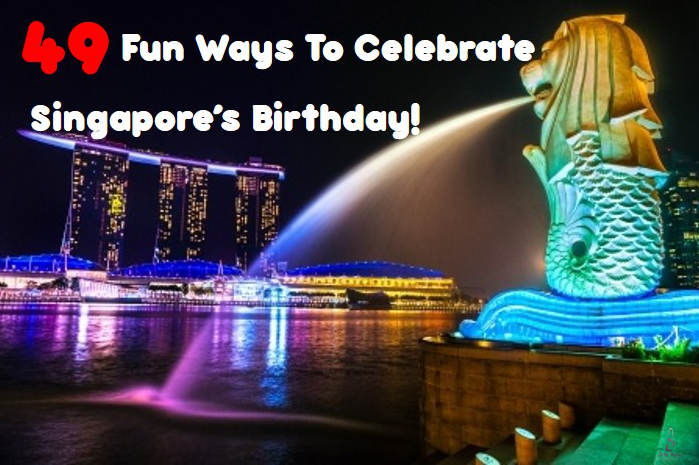 You have probably noticed an atmosphere of Red and White filling every corner of this Sunny City. Because… Singapore's Birthday is here again! On 9th of August, we will be celebrating Singapore's 49th Birthday which means 49 years of independence! Pondering on what you can do with your family to let them know more about Singapore and get them into the mood of celebration? Fret not! Check out these fun activities to do with them – the young and the old.
1. Dress up patriotically, wouldn't it be fun to dress your family in Red and White.
2. Stick temporary tattoo on different parts of your body and get into the patriotic vibes. Grab some Singapore Flag Tattoo!

3. Paint your face using toxic-free face paint.
4. Do a Red and white theme friendship loom with your children for their friends.
5. DIY your own Singapore Flag using drawing paper, paint and balloon stick.
6. Display your National flag outside the house and decorate the interior with red and white streamers.
7. Capture a perfect family photo with all the outfits, tattoos and props.
8. Bake 49 cupcakes, candles are optional.
9. Play the good old National Theme Songs all week, all day and all night. This is Home truly~
10. Plan a staycation for the family.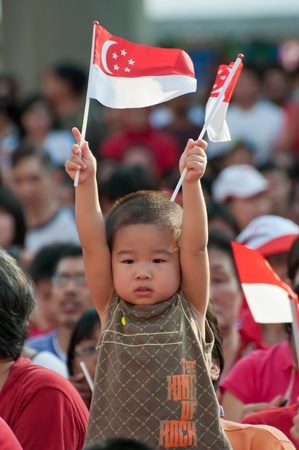 11. Catch the fireworks show from Marina Bay Sands Boardwalk or at One Fullerton.
12. Catch the NDP at Marina Bay Floating Platform. Didn't manage to get the tickets? Stay home and tune in to the live telecast on local channels like Channel 5 and 8 for the performance.
13. Catch a perfect view from the top. Check out the spectacular view of the city and the fireworks from the Singapore Flyer. Book a ride on the Singapore Flyers online and you will save time and get 10% off your booking.

14. Take a trishaw ride around Singapore and visit all the historical landmarks and heritage trails.
15. Celebrate the multi-racial cultures by visiting the old streets such as Chinatown, Kampong Glam and Little India.
16. Go on a food trail looking out for good old local fares.
17. Gather with family, friends and neighbour. Plan a barbecue and invite your everyone along.
18. Teach your children the good old traditional games – hopscotch, five stones, chapteh and marbles.
19. Wiggle waddle through Singapore River on a Duck Tour.
20. Enjoy your day off having a picnic at Marina Barrage and get a good view of the Flypast and the Firework display.
21. Attend Baby's Day Out – A National Day party for babies and toddlers at The Promontory@Marina Bay. Register here for Baby's Day Out; Limited Seats Available.

22. Absorb the beauty and assortment of colourful artworks by local Indian artists at the 'Summer in Singapore' exhibition.

23. Dance and move along with your children at da:ns festival 2014. A series of introductory dance styles at its Footwork workshops for different age groups – from tots all the way to adults.

24. "Soar through the sky with Superman, Batman, Wonder Woman and Green Lantern and join them in battling The Joker to save the day." Come on and experience all the 4 DC Super Hero-themed Cable Cars at Mount Faber.
25. Have a whale of a time exploring the different 3-Dimensional painting at Sentosa – Trick Eye Museum.
26. Tour historical sites at Fort Siloso – Singapore's only monument to British fortifications. Explore the complexity of the bunkers, cannons and underground passages. Take tons of pictures mimicking how the soldiers fought in exchange for our freedom.
27. Check out The Maritime Experiential Museum that showcase the History of Maritime in Asia at Sentosa. Free admission to Maritime Experiential Museum™ when S.E.A. Aquarium One Day Pass is purchased.
28. Catch a spectacular night show filled with lasers, fireworks, beautiful multimedia, water and fire effects, coupled with contemporary music at Sentosa's New Night Show – Wings of Time.

29. Visit Jurong Bird Park and get 49% discount on admission fee. Download e-coupon to Jurong Bird Park.

30. Walk down memory lane at Singapore Discovery Centre. Watch the transformation from the good old days to our current state at the galleries. Free Admission for all and 20% off key attractions to Singapore Discovery Centre by presenting this e-coupon.

31. Head over to National Museum of Singapore to view the different galleries and exhibitions and enroll your child in the programs that are available.
32. Take a time machine back to the yesteryear for Masak Masak Exhibition at the National Museum of Singapore. A great chance to reminisce about your childhood with your child with familiar playgrounds, games, and performances. Look at how much Singapore has progressed over the years.
33. Head over to the different Safra Club Houses for various activities for the young and the old.

34. Have some wild fun at Kidz Amaze's National Day Carnival – with craft-making contest, lucky draw and fun games and activities.
35. Tour the Istana Park that is open to Singapore Citizen for free. Watch a variety of performances and join the guided tour around the building.
36. Visit the Army Museum of Singapore and learn about the experiences and contributions that the soldiers have made towards the nation. Admission is free for all Singapore Citizens and PRs.
37. Check out the Battle Box Museum at Fort Canning. It was once an emergency, bomb-proof command centre during World War II.
38. Tour Reflections at Bukit Chandu, a World War II interpretive centre. Learn about the Battle of Bukit Chandu, before the British surrendered, causing Singapore to fall to the hands of the Japanese. The bungalow remain in its original state since 1960s.
39. Head over to Kranji War Memorial and pay respect to the fighters both men and women from different nationalities who died while trying to defend Singapore and Malaysia against the Japanese Invasion during World War II.
40. Have fun exploring Labordor Park where many historical relics was left behind by the British when they used it as a defense site to protect the entrance to the harbours of Singapore.
41. Visit Singapore one and only theme park that depicts images from Chinese Mythology, Buddhist teachings, /Folklore and Legendary tales – Haw Paw Villa. Entry is free for all.
42. Take a ferry ride from Marina South Pier and explore Singapore's Southern Islands such as Sisters' Island, St John's Island, Pulau Hantu and Kusu Island.
43. Go cycling at Pulau Ubin and explore the last kampong in Singapore. How nostalgic to go back to the times when Singapore is still a village in the 1960s.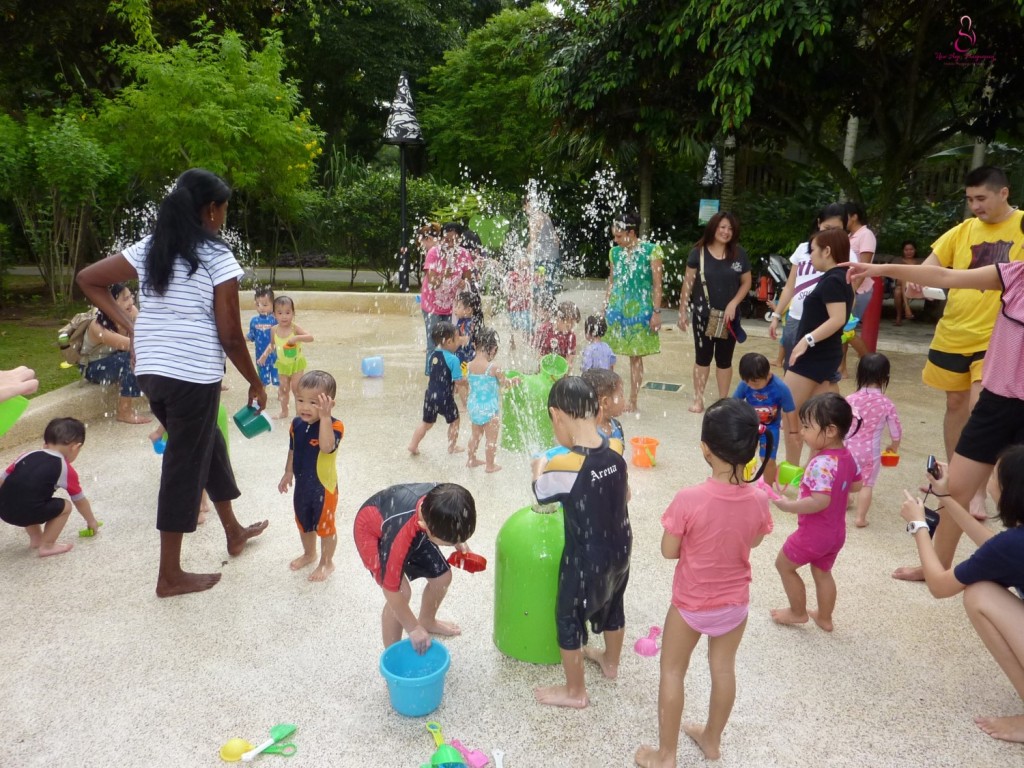 44. Have a picnic or kite flying session at Botanic Garden – the first "Botanical and Experimental Garden" founded by Sir Stamford Raffles, it has also came in #1 in Asia and #11 in the world in the 2014 TripAdvisor Travellers' Choice Awards for attractions.
45. Bring the kids outdoor for a sketching or doodling activity of Singapore's landmarks such as The Merlion, The Flyers, Marina Bay Sands, Esplanade and Chijmes.
46. DIY a postcard of Singapore Heritage, local fares and Historical landmarks with your children and send it over to your oversea friends.
47. Make a National Day Bracelet with you child using patterned grosgrain ribbon. Check out the tutorial here.

48. Embark on a Singapore National Day Craft: Fly our own Singapore Flag.

49. Engage in a series of craft for your kids to know more about Singapore. At the minimal, they will get to know how a Singapore Flag looks like. Check out the crafts that a Mummy blogger did with her children.

By Crystal Tan