Exciting, yet scary.
Joyous, but also cautious.
Being pregnant – especially for the first time – can be daunting.
With all the information you can easily get online, how do you know which one suits you?
Can you have a pregnancy plan that is catered to your needs?
Now you can.
 
Your Very Own Personalised Pregnancy Plan
Designed specifically with Singaporeans in mind, HealthHub Track is a new web portal and mobile application by the Health Promotion Board, developed with KK Women's and Children's Hospital, Division of Obstetrics and Gynaecology.
But this is not just another health app.
It's not a one-size fits all app designed to cater to the general public.
It was specially created to suit you.
If you're 15 weeks pregnant, you don't' have to worry about receiving information for a mother who is 5 weeks pregnant. It serves you health information relevant to your stage of pregnancy and health.
As your pregnancy progresses, it develops with you too.
Update it regularly and it will keep track of your heath and pregnancy vitals.
Here's how to get started.
Easy Log In And User-Friendly
Logging in to HealthHub Track is seamless and easy.
You can choose to sign in using your Facebook account or create a HealthHub account.
Once you've signed in, personalise your healthy pregnancy plan and timeline recommendations by answering a few questions.
With the newly input data, the app will prompt you with recommended actions for the day accordingly.
Update Your Profile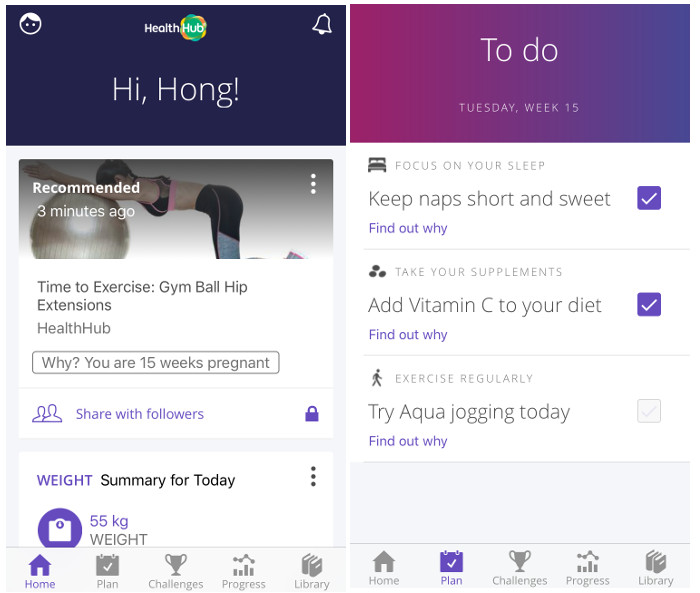 Each week, you will be promoted to update your health with a series of questions. Your answers will be updated and reflected in your personalised action plan and timeline.
Set Goals
Always wanted to hit the gym but never got down to doing it? Have a sleep goal you've been striving to achieve? Record your goals and remind yourself by keying them in the 'Progress' section.
You can also sync with other fitness apps (Apple Health, Google Fit, Healthy 365) and wearables (Fitbit) to track your actions automatically. Keep track of your weight gain, daily exercise and diet in a heartbeat!
Read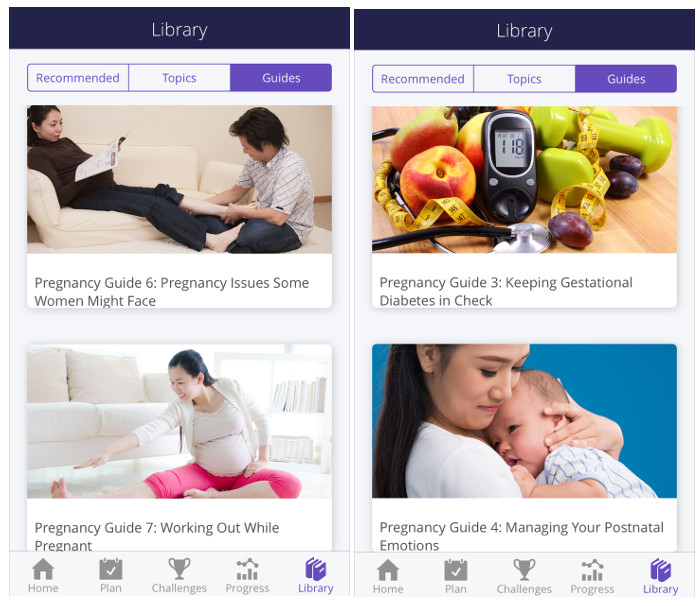 Need ideas on what to cook or eat? Browse through recipes by KK Women's and Children's Hospital and Health Promotion Board. Whether it's about giving birth, fitness, doctor appointments or diet, the Library featured in the app is packed with trimester guides and resources to address any pregnancy issues and concerns. You can now enjoy immediate access to localised content, suited to your needs to ensure a smooth and successful pregnancy.
Join A Challenge
Don't have an exercise routine before your pregnancy? Here's an exercise you can do that's easy and accessible – walking! Keep fit by taking part in the pregnancy walking challenge.
Kickstart your healthy pregnancy plan with HealthHub Track.
Take control today.
Your health, in your hands.
HealthHub Track is now available on Google Play and Apple iTunes for free.
Post Pregnancy: HealthHub
Baby is out! What's next?
As your little one grows, their medical records and dates will start adding up. Keep track of your baby's check-ups, vaccination shots, medical history and development with HealthHub. You can also access your own and your whole family's health records at your fingertips.