Babies and toddlers love to snack. Depending on your child's metabolism rate and appetite, he or she may do better with three main meals interspersed with snack times, or five to six mini meals a day. In general, most babies are introduced to snack foods at about eight months onwards.
It's always good to have a snack or two in your bag when you go out, as they can help him or her settle down in the pram or high chair in public settings. Even at home, snacks can help stave off hunger pangs until the next meal, or provide a welcome diversion so you can do some housework! But most of us would frown upon feeding chocolate donuts, ice cream or potato chips to little tummies too much, too soon.
Snacks don't have to be unhealthy for your little one. Here are 10 healthy snack ideas that are easy to prepare and pack a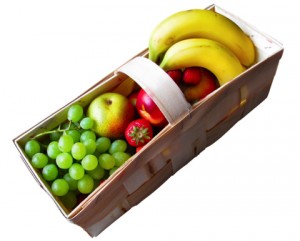 nutritional punch for baby!
#1 Fresh fruit
Peel and thinly slice crunchy fruit like red or green apples, pears, and guava. To keep fruit from oxidization, soak briefly in salt water, then rinse. Best served chilled.
#2 Yoghurt and toppings
In lieu of ice cream, treat them to some good old-fashioned yoghurt. Some kids like greek yoghurt, others prefer the normal kind but in mini-size packaging, from brands like Yoplait. Bring along a small Ziploc bag of their favourite healthy topping, like granola, raisins, dried cranberries or chopped nuts!
#3 Apples and peanut butter
For babies above one, you can introduce them to peanut butter in small quantities. As in #1, provide thin slices of apple for them, and spread a thin layer of creamy peanut butter atop!
#4 Juice popsicles
Freeze natural, unsweetened juice for a perfect cold treat on hot afternoons. Experiment with plain juice or a mix of juice and milk, for babies who have started on regular milk. This can get messy to eat though – be sure to have a bib on hand to catch all the fruity dribbles!
#5 Wholegrain pancakes
Whip up some mini pancakes and serve warm with cream cheese. Or pack them to go with a separate container of fresh fruit.
#6 Sweet potato
Steam sweet potato, peel and cut into chunks. Delicious as it is, and a much better alternative to those potato chips!
#7 Banana bread
Little slices of banana bread are tasty and wholesome, especially when made with wholegrain flour and minimal brown sugar. You can even choose to omit the sugar entirely, as the banana will provide some sweetness of its own.
#8 Trail mix
Create your own trail mix! Any combination of natural or baked nuts (cashews are a good first choice), dried fruit (cranberries, blueberries, raisins) and muesli or granola.
#9 Corn cup
Boil or steam some fresh corn, mix in a dab of butter, and voila! Homemade corn-in-a-cup!
#10 Avocado milkshake
All fruit milkshakes are good, but avocado is excellent as a source of protein, good fats and vitamin A. Plus it's pretty filling, so a little can go a long way.
 By Dorothea Chow