The first moment your little one holds Lela the fawn; they have found a new friend.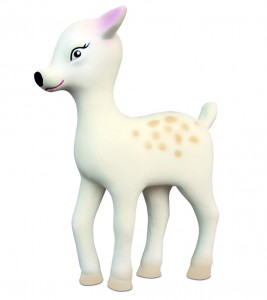 Made from 100 percent natural rubber and painted with food-safe colours the Lela teether soothes gums and opens up the world with all five senses. Due to the pacifier-like surface, children love to touch her and her proportions make her easy to grasp in small hands. This stimulates your baby's sense of touch and motor skills.
At the same time little ones can safely put the little fawn in their mouth and chew on her legs or ears. Lela squeaks happily when her tummy is squeezed creating a fun sound babies love to hear.
5 Good reasons to get a LELA for your teething child:
1. Lela awakens baby's senses
2. Helps sooth baby's gum especially great for the stage of teething
3. Trains baby's haptics and motor skills
4. It's 100% Natural Rubber
5. Free from Azo-dyes, nitrosamines and PAKS (polycyclic aromatic aromatische hydrocarbons)
Lela by Lässig is retailing at SGD$39.95.
Visit www.lassig.sg for more information.