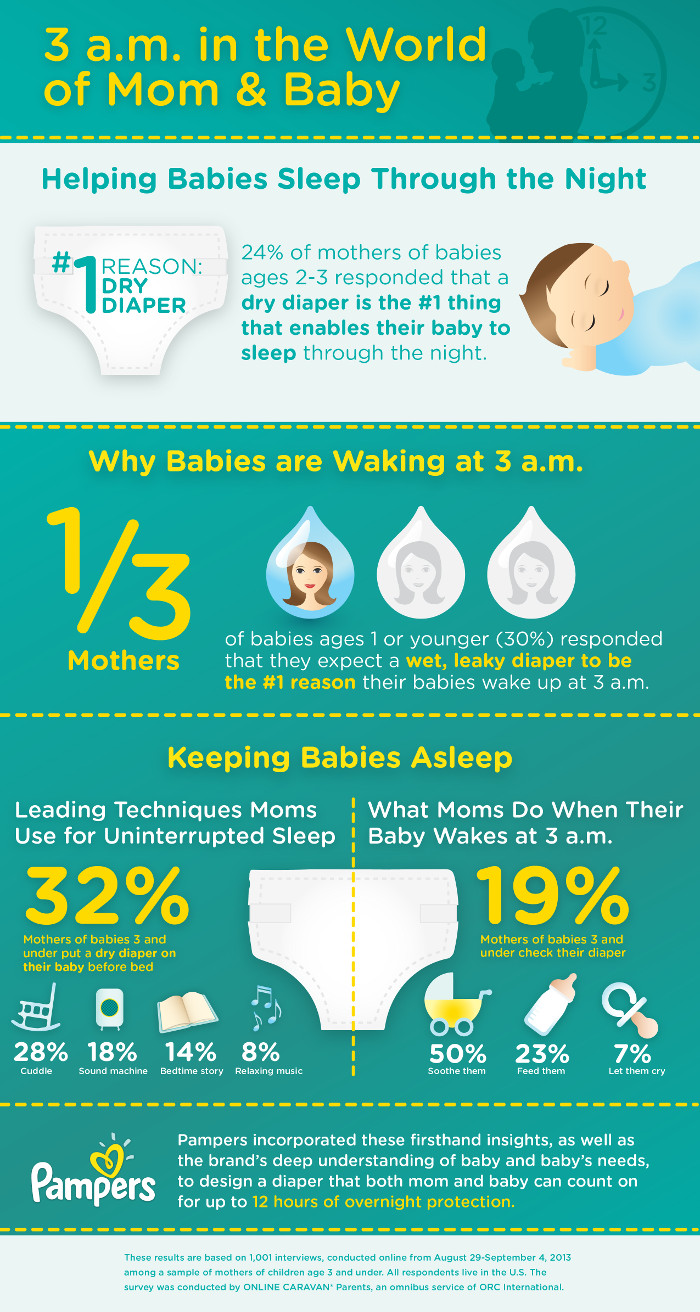 New Pampers Baby Dry with improved Extra Sleep-Layer helps baby get up to 12 hrs of Golden Sleep so he wakes up ready to enjoy a Dream Morning
Babies who sleep better have been shown to be more positive about interacting and concentrating; be more alert and generally able to interact more sociably with those around him.
Baby Sleep Expert, Dr Luci Wiggs comments:
"There are many internal and external factors which may lead to a baby waking or arousing during the night, including common triggers such as hunger, noise, light or discomfort. Current available research suggests that helping to keep babies dry during sleep is one factor which may minimize disruption of sleep due to discomfort, environmental stimulation or temperature alterations. Dryness is therefore important because it will help ensure that babies' skin is kept at a constant, appropriate temperature and free from irritation."
Mornings are the perfect time for babies and moms to bond, as they can enjoy special time getting to know each other and preparing for the day ahead. These precious moments are important for baby's social development and are all the more likely to happen after a good night's sleep.
Ensuring that babies get enough sleep in order that they can develop and grow is important in view of what is understood about the benefits of sleep. Baby care expert, Rachel Waddilove observes through her interactions with moms and babies that the better sleep a baby has, the happier he will be in the day. Essentially, when a baby has slept well at night he will stay happy and awake for longer in the day and moms will find it easier to take him out to friends or baby groups and he will be a delight to be with. This will have a very positive effect on the mom, that she will feel confident and enormously proud of her baby, and take him anywhere, which in turn has a positive effect on the baby.
Dr Luci Wiggs adds:
"Ensuring that babies are dry at night may be one way to help prevent babies' sleep from being unnecessarily disturbed and, as such, may help to play a role in promoting a babies' ability for optimal positive daytime interactions."  
New Pampers Baby-Dry with improved Extra Sleep-Layer absorbs wetness faster than before to help baby get up to 12 hours of undisturbed 'Golden Sleep'. The improved Extra Sleep-Layer is now longer, enabling new Pampers Baby-Dry to absorb large amounts of liquid faster than before; and because the Extra Sleep-Layer gets reactivated quickly, it is ready to absorb another urination again even after hours of wear.
The outcome of maximising sleep for baby is that she is more able to share richer experiences with mum in the morning and throughout the day that aid her development.
Dr Luci Wiggs specializes in the sleep patterns of children and their families. She is currently Chair of the Handsel Trust Sleep Advisory Group.
Rachel Waddilove is one of the UK's most sought after 'gurus' in the care and well- being of babies and young children.
Pampers is giving away Pampers Bundle worth $100 for 5 lucky winners. Check it out here.