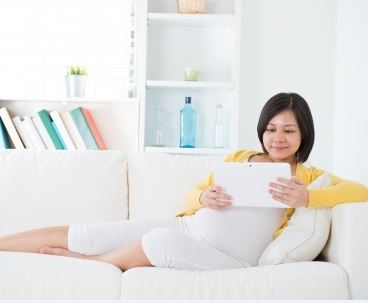 Wondering what to expect from this roller coaster ride they call "pregnancy"? Here comes your smartphone to the rescue!
The following are ten smartphone apps that can take you from pre-conception to delivery. There are apps for virtually anything under the sun – from tracking your ovulation dates to monitoring your baby's development in-utero. It's time to let your fingers do the work for you, while you put your feet up on the couch.
In no particular order…
1. Period Tracker app – free for iPhone and Android!
It tracks your period and ovulation cycles every month with just the press of a button. All you have to do is enter the typical start and end dates for your period. The system then predicts your start date for future periods, ovulation days and fertile days for the next three months, which you can easily track on a month-by-month calendar.
2. BabyBump Pregnancy app – free for iPhone and Android!
Count down the days to your due date with ease, and track what week you are currently in in your pregnancy. Read about what symptoms you might be feeling in any particular week, together with diagrams that help illustrate the point. The app also connects you to community message boards within app users, allowing the opportunity to link up to discussions on almost everything pregnancy-related, and to share photos of your growing bump.
3. I'm Pregnant app – free for Android! (Not Available for iPhone)
This app offers weekly reports of changes in your body and fetal development, a weight tracker, a kick counter, packing check lists and a notes section. There are also useful tips for healthy eating during conception and pregnancy, as well as fitness exercises for expectant mums.
4. BabyCenter My Pregnancy Today app – free for iPhone and Android!
This is, in effect, a condensed version of the website, which many pregnant women subscribe to. Get all your pregnancies questions answered – wherever and whenever you need them! You can also receive daily advice based on your due date, track baby's development, and watch educational videos, among other things.
5. What To Expect (WTE) Pregnancy Tracker app – free for iPhone! (Not Available for Android)
Based on the popular WTE book series by Heidi Murkoff, this app helps you to keep abreast on fetal development and changes in your body throughout your pregnancy! Track with baby's growth week by week, count down to your due date, find out how big your baby is becoming, and more. It's all here – everything you need, right now, at your fingertips.
6. 50,000 Baby Names app – Free for iPhone and Android
Choosing a baby name is no mean feat; agreeing on one as a couple is even harder! With this app, you can scroll through50,000 names and read about their origins and meanings. Scour popular names lists and other lists like Celebrity Baby Names, Bible Names and Princess Names too.
7. Foods to Avoid When Pregnant app –0.99 USD for iPhone! (Not Available for Android)
As its name suggests, this app provides full details of all the foods you should avoid while pregnant, according to eight main categories: cheese and dairy, dressing and condiments, drinks and beverages, fish and seafood, frozen and prepared foods, meat and eggs, pates and spreads, and vegetables. When in doubt, just whip out your phone before ordering your lunch!
8. BabyBag app – Free for iPhone! (Not Available for Android)
Planning is the key to successful packing! Create customized "packlists" for yourself, your partner, your baby, or even an older child who's going to bunk in at grandma's. You can check off items as they are packed. It also allows you to set a "first pack reminder" and a "second pack reminder" alert by date and time
9. M Pregnancy app – 2.99 USD for iPhone! (Not Available for Android)
Finally, here's one for the dads-to-be. Baby's size is aptly compared to things like beer bottle caps and footballs. There is also a countdown of how many days left as a 'free man', it's tongue in cheek and fun.
10. Sprout Lite app – Free for iPhone! (Not Available for Android)
A condensed version of its parent app, Sprout, this program helps expectant mums to record important details
like baby's weight gain, kicks, and contraction times, with personalized
timelines, checklists, extensive information about fetal
development, and a journaling space.
By Dorothea Chow