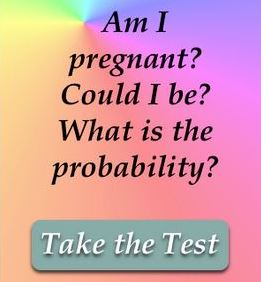 Many women may experience pregnancy symptoms very early on, while others (lucky things!) can go for weeks or months with nary a suspicion. Some symptoms you can look out for are weight gain, nausea, dizziness, breast changes, increased appetite and fatigue.
If you've been trying to conceive, chances are you are always on the lookout for the first sign of possible new life, and sometimes feeling like you're in a mode of waiting and guessing. And buying a pregnancy test kit every time you think you might have hit the jackpot can burn a big hole in your pocket, while a repeated negative result can be extremely frustrating and disappointing.
Before you run out to the nearest pharmacy to get yourself a test kit, why not take one of these simple and free online tests to assess the chances of you having that bun the oven? Just click on any of the links below.
If it looks like you might be pregnant (yay!), do confirm it with a home pregnancy urine test kit or pay a visit to your doctor or gynaecologist as soon as possible. All the best!
http://www.proprofs.com/quiz-school/story.php?title=online-pregnancy-quiz
http://www.early-pregnancy-tests.com/online-pregnancy-test.html
http://www.thepregnancytester.com
http://www.earlypregnancytester.com
http://www.thepregnancytest.com
By Dorothea Chow