1. Pregnancy Planner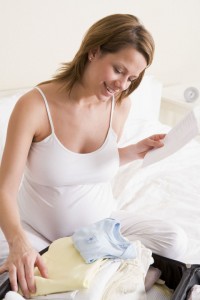 Manage the chaos of your mind in this pregnancy journey, and invest in a planner to map out the nine months of gynae visits and other health checks, contact lists, pregnancy-related tasks and to-dos, and baby name ideas.
Try: Family Facts Pregnancy Organizer & Planner by Pam Socolow
http://www.amazon.com/Family-Facts-Pregnancy-Organizer-Planner/dp/0974728829
2. Body Pillow
As early as the second trimester, you may find it increasingly difficult to sleep, as unwanted body and back aches plague your rest. Having good support for your growing belly and tired limbs can be essential to a good night's sleep, and many women find great comfort through the use of a body pillow, specially designed to support your body in a position that alleviates the strain on your back and pelvic muscles.
Try: Dreamgenii Pregnancy Pillow, available at selected Mothercare and Spring Maternity stores islandwide
3. Belly Support
A pregnancy support belt can help your back, hips and thighs to carry the weight of your growing belly, and is a great way to increase the lifespan of your regular clothes. How does it work? Picture a wide elastic belt that securely holds in place your favourite pair of (unbuttoned/unzipped) jeans. Now you can flaunt your belly in style!
Try: BellaBand
http://www.pupsikstudio.com/bellabands-solid.html
4. Morning Sickness Relief
Morning sickness can overwhelm pregnant women, especially during the first trimester – especially if you have other conditions like anemia to begin with. Dizzy spells can be very distressing for the pregnant woman on-the-go, and the nausea that you experience out of the blue can make leaving the house unbearable, or even unthinkable. Every woman has her different 'poison' – some way of curbing their symptoms. Try packing some light cracker snacks, preserved fruit or boiled sweets to suck on long rides. Avoid reading magazines, books or your iPhone on moving vehicles. Take a different route so you don't have to pass the fish stall at the market. Find out what foods/drinks make you feel better.
Try: Jacob's Cream Crackers, available at most supermarkets islandwide, for a healthy boost of energy any time of the day. Try sea bands – wrist bands that are commonly used to curb sea-sickness and have proven successful in reducing pregnancy-related nausea as well – which are available at most pharmacies.
5. Bra Extenders
This little piece of fabric with hooks will save you the hassle and cost of buying lingerie in multiple sizes and you body grows (during pregnancy) and shrinks (post-pregnancy). Get them at any lingerie store for a few dollars, and use them to gradually "let out" your bras as you outgrow them.
6. Body Lotion
As the skin on your tummy stretches and grows, it will probably begin to itch from the stretch, higher body temperature and dryness that is part and parcel of any pregnancy. Your best defence is to keep your skin smooth and hydrated using a natural product like olive oil, or over-the-counter body lotions.
Try: Burt's Bees body oils and lotions
7. Maternity Swimsuit
Many pregnant women shun the pool because they are embarrassed to be seen in their swimming costume. Ironically, swimming is one of the best and safest exercise activities pregnant women can do! So don't shy shy – invest in a fashionable maternity swimsuit with good support, and clock in regular time at the swimming pool. Exercise is good for baby and great for you!
Try: Funfit maternity swimsuit, available at leading departmental stores.
8. Slip-on footwear
Swollen feet plague many expectant mums, but that doesn't mean you have to slouch about in flip flops for the whole nine months. Look for comfortable footwear that's easy to put on and take off – you'll come to appreciate this trait as your growing belly will soon prevent you from reaching your toes! A pair of neutral-coloured, comfortable sandals with good support and adjustable straps can take you through the whole pregnancy with ease.
Try: Birkenstocks, available at Wheelock Place, Tanglin Mall and Raffles City Shopping Centre.
9. Leggings
In our hot and humid climate, anything more than shorts can make you feel overheated, icky and sticky out of doors. Feeling cool will also do wonders for your mood, which is already pretty volatile on its own, thanks to your surging hormones. Leggings are both comfortable and fashionable, and very versatile too!
Try: Old Navy maternity leggings
10. Week-by-week Pregnancy Guide
Track your baby's development and your body changes on a weekly basis. Being informed and knowing what to expect can be vital to your general sense of wellbeing and part of the process of preparing for parenthood.
Try: What to Expect When You're Expecting, by Heidi Murkoff, available at all leading bookstores.
By Dorothea Chow