When 29-year-old Sapphira Tay was pregnant with her first child, she wanted a natural birth experience but ended up having to be induced. When she was pregnant with her second child, a water birth at home was her obvious choice. She speaks to NAP about her home birth story. Photos courtesy of Sapphira Tay.

"I wanted a natural birth experience – drug-free, with little to no medical interventions and decided to do a water birth at the hospital. But in spite of all my preparations and intentions, I ended up having to be induced."
After 24 hours of contractions at home, she went to the hospital, only to find out that her cervix had dilated only 1-2 cm. She chose to be warded so she could relax to enable her labor to progress. But when her water bag burst, there was evidence of meconium. Her rest turned into distress, as the nurses and other personnel got frantic as they rushed her to the delivery suite. "I thought I was going to get a Caesarean section right away!"
Two Whole Days of Labour
At the delivery suite, she started out in the water tub, but because she was progressing so slowly, the doctor administered Pitocin, to hasten labor. It was delivered through an 'IV lock' (a catheter tube threaded into a vein in the hand, for feeding medication intravenously) which required that she get out of the water. The water birth was cancelled.
"The hospital environment made me very nervous, because of all the interventions. There were so many things to worry about. Because of all this I believe my labor took even longer than necessary," she shares. "A lot of things were restricted," she said. To her relief, she ended up delivering naturally, but only after two whole days of labor in the hospital.
"When my doula de-briefed the birth with me, I found out about the option for home births, that we have a choice here in Singapore." When she got pregnant with her second child, Shania, now 22 months old, a water birth at home was her obvious choice. We ask Sapphira about her home birth experience.
What did you do to prepare for your water birth?
I didn't do much. I just invited a couple of my friends to come over and take pictures! I explained a little to my son, Shino, but he was too young to really understand. At my obstetrician's instructions I had to rent an oxygen tank and have it ready in case it is needed for the baby or me. He loaned me a Fetal Doppler to monitor the baby's heart-rate, with a chart to interpret the results. All my pre-natal check-ups were done at the obstetrician's clinic.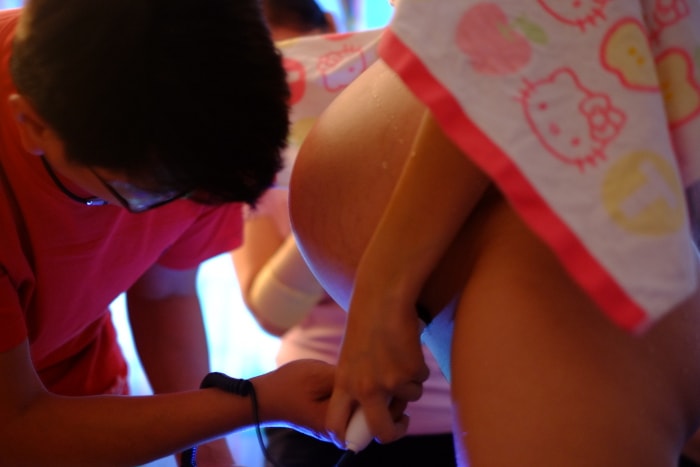 How was the labour experience?
I went into labour while at home. The feeling was different as compared to how I felt at the hospital). When the contractions became regular and intense, I called my doula and she came within an hour. I had two doulas. One took care of me, while the other set up the bathtub in the room. She filled the tub with water at the right temp (38 degrees Celsius). The other doula got me into the tub. With a home water birth, you can dress any way you want. I wore a sports bra.

And that was it! I just stayed in the tub. I could rest, eat, sleep, do whatever I wanted. When the contractions came, my doula would do what are called comfort measures, consisting of various kinds of massages. The tub was big enough, and soft enough that I could lie in any position I wanted, and still feel perfectly comfortable.
Having my friends and family there helped me with the process, to take my mind off the contractions. We hung out, talked and laughed. My son and husband were there, too. My son, Shino, kept trying to get into the tub!
How did you deal with your contractions?
When I was in the water, the intensity of the contractions was less than what I experienced when I was at the hospital. The water helped to relax me greatly. When I had to get out of the tub for the doulas to change the water, I could feel that excruciating 'pulling sensation' of the contractions, similar to how I felt during my first birth at the hospital.
But when I was in the water, I didn't feel much of this sensation. Also because of the Pitocin I took during my first birth, the contractions were so intense and came one after another, I couldn't even breathe. I found myself struggling with the urge to fight the contractions and I just tensed up.
With this home birth, the contractions came in waves that were spaced apart, so I was better able to cope. When each contraction ended, I knew I could relax, let go for a little while and even nap. Being submerged in the chest-level water soothed me, unlike at the hospital where the tub was hard and had shallower water. With my home birth, I could breathe easily, and breathing is so important!
The doula would assess the rate of contractions to determine how fast I was progressing and update the obstetrician. He came around 5 pm to check on me. My dilations were at 4 cm so he expected I would deliver after dinner. He was right! After dinner around 7 pm, the contraction got more intense.
Welcome to the world Shania!

In a home birth, you go by how your body feels – when you get the urge to push, you know you're ready, and you just follow your instincts. I was the one who determined when to start. I told my doula, 'Okay I feel like pushing.' This was at 8 pm, while the obstetrician was still on his way. He arrived in time for Shania who came out within 30 minutes.
Immediately they placed newborn Shania on my chest, and we both rested for about 15 minutes. Later, I asked my husband, "If we have number three, do you want a home water birth?" He said yes.
Cost of water birth in Singapore
In Singapore, water birth is just one of several options available for mothers who choose to give birth at home. Currently, there is one obstetrician-gynecologist in Singapore, Dr Lai Fon-Min, licensed to oversee home births. Sapphira's home water birth costs consisted of a flat $5,000 for the obstetrician's fees, while the doulas' services were part of a $2,000 package that included the use of the inflatable tub. The oxygen tank, which was unused, costs $75 to rent.
Inspired to help other mothers enjoy a naturally-supported birth experience, Sapphira herself become a doula. She is registered at Thomson Medical Centre and National University Hospital. She can be contacted at 9029 9750.
By Sara Rognstad