Dr Gordon Lim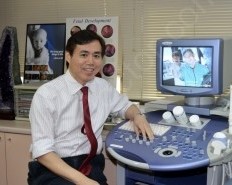 Obstetrician and Gynaecologist
Doctor's Biography
Dr Gordon Lim is a qualified M.B.B.S from the Middlesex Hospital Medical School, University of London in 1975. Dr Lim previously had also been attached to the prestigious Queen Charlotte's Hospital for Women in London.
Dr Gordon Lim received his M.R.C.O.G qualification in 1982. With continued maintenance of high level of gynaecological and obstetrics services, Dr Gordon Lim received the honorable F.R.C.O.G qualification in 2005 (United Kingdom).
He then worked in the 'A' unit of KKMH as registrar before going into private practice in 1985. Dr Lim has had over 30 years of experience as an Obstetrician & Gynaecologist, helping various women patients to achieve optimal health and well being.
Dr. Gordon Lim is one of the first obstetricians to introduce the ultrasound scan for diagnosis in Singapore's obstetrics and gynaecology industry. He is also one of the first gynaecologists to perform minimal invasive surgery (key-hole surgery) for the treatment of endometriosis, ovarian cysts, fibroids, prolapse and stress incontinence. He was also one of the first gynaecologists in Singapore to perform video hysteroscopic endometrial ablation as an alternative to hysterectomy for heavy periods.
With the love to educate the public on the aspects of pregnancy and women's health, Dr. Gordon Lim has authored numerous medical articles and reviews. He is also the published author of "Nine Months and Counting", a book about pregnancy.
Practice Address/es:
Gordon Lim Clinic & Surgery For Women
Gleneagles Medical Centre
6 Napier Road #10-07
Singapore 258499
Tel: 6472 9988