So you've been cutting down on your carbs, your sugar, and you've been exercising hard twice to three times a week. Yet, you still can't seem to shake off the extra flab you gained after the birth of you baby. While some women are blessed in the genes department and have bodies that simply seem to bounce back to their pre-pregnancy state, the rest of mummies have to struggle to shed their post 'baby bellies'.
But now, there is a fuss-free way for mothers to regain their pre-pregnancy body, minus the hassles and struggles. Simply don a bodyshaper.
No More Mummy Tummy
Body shapers (also known as postpartum shape wear for mothers) is a type of innerwear, to define your curves, flatter your well-endowed body areas and improve your posture. By trimming those post-baby jiggles, it works to slim your body and accentuates your overall silhouette overtime, giving you a more defined womanly figure.
And before you ask, we are not talking about grandma's girdles or those bulky, hot and uncomfortable binders. Gone are the days of thick, itchy and irritable girdles. Today's Bodyshapers are made of soft, breathable stretch fabrics with elegant designs with a wide range of sizes. Easy and fuss-free, you can even wear it on your own.
It is even suitable even for mothers who have just given birth. You can wear it even during the months when you are breastfeeding your baby. Worried that you can't fit into the body shaper because of engorged breasts? Fret not. There are adjustable shoulder straps to accommodate to that.
Beauty and Joy Lingerie: Shape Your Body with Style
For women who dislike the idea of being 'binded', or feel grandma-ish because it feels like you are wearing a girdle or corset, Beauty and Joy Lingerie Body Shaper designs are modern yet classy, available in timeless colours such as nude, white black and grey.
We tried on one of Beauty and Joy best sellers Seamless: Shapewear with Back Flab Control. Easy to wear with hooks located in front, wearing it for the first time might take some getting used to as it is meant to be a little tight. Taut yet elastic, B & J Shapewear gives you enough room to move around. What TNPA liked most was the quality of the material; smooth, thin, seamless and airy. Say goodbye to visible panty lines and unwanted 'spare tyres'! Not just great for sculpturing your body to fit comfortably into that little black dress for evening or formal occasions, you can also wear them daily, even at work or at home.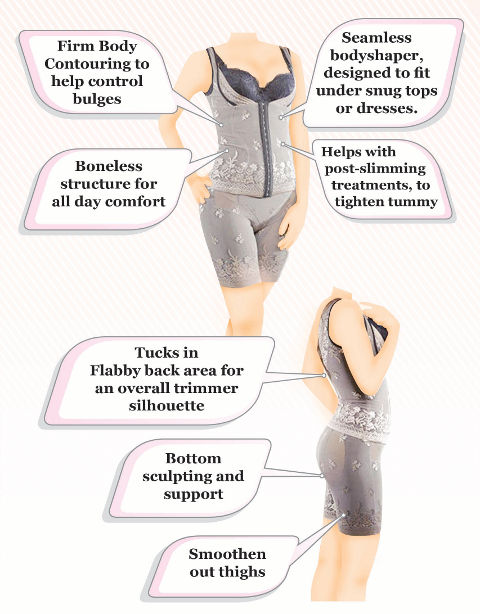 Unlike other brands of shapers which may burn a small hole in your pocket, the Bodyshpaer range from BJ lingerie is priced reasonably between $49 – $39 (Bodyshaper Tops) and $42 – $18 (Bodyshaper Bottoms).
Slip On, Shape On
Whether you are a new mother who has just given birth, or a working mother with three active children, slip on a bodyshaper and you will be surprised at the contouring effects. The length and duration of wearing a bodyshaper depends on each individual wearer to see the results. Jocelyn, owner of ForHer.sg, recommends it be worn daily (during the day) to tone the stubborn flabby areas and achieve better contouring and lasting effects. To find out which size will fit you the best, you can refer to their size guide here, or drop Jocelyn an email.
There is no hard and fast rule that wearing a bodyshaper it will give you a celebrity or super model's body, and wearing it does not also mean you will see a decline when you step on the weighing machine. However, wearing one with quality and comfort can help you feel and look your best. Who knows, you might just be able to slip into your favourite pair of pre-pregnancy jeans or dress again.
As the saying goes, 'when you look good, you feel good'. Who says mummies can't look and feel good too?
Beauty and Joy Bodyshaper Tops and Bottoms are available at www.ForHer.sg.
TNAP Exclusive!
TNAP readers enjoy a 30% discount from their first purchase with BJ Lingerie. Simply key in the code TNAP30 before checking out to enjoy this special promotion.
ForHer.sg is a one-stop online store, aiming to present an exciting shopping experience for every lady. Bringing you a wide array of merchandise, along with an extensive range of lingerie from our in-house brand, Beauty & joy Lingerie, prices are kept affordable, without compromising on quality.
Tel: 6280 4033
Email: enquiries@bjlingerie.com
By Michelle Ang