Baby's first month, also commonly known as baby's shower is a joyous event to celebrate the baby's full term. Even in modern times, what we cannot do without are the traditional customs of giving cakes, eggs and ang ku kuehs to give to our relatives and friends. With so many things on hand to prepare, we got it prepared for you. Check out these popular baby's full month cakes and packages.
"FoodLine Baby Full Month Vouchers are redeemable from over 65 artisan cake shops and come with specially-designed envelopes. Your guests can redeem from a list of over 30 items such as cookies and cupcakes, or simply use it as cash voucher. Celebrate your bundle of joy with your guests now!"
Tel: 6100 0029
Email: Sales@foodline.sg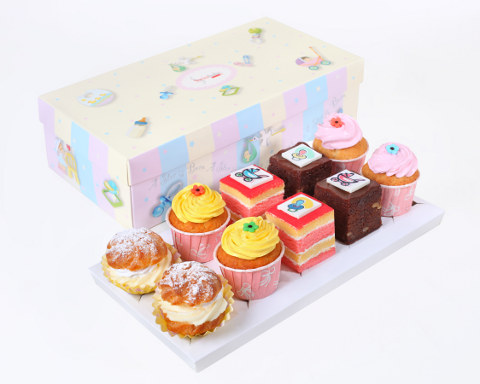 "If you are a modern parent who prefers something less traditional, take a look at Swissbake's baby beginning packages! There are close to 20 special packages available, with prices starting from $6.30, each package comes with a free customised baby card. Swissbake Vouchers are also available."
Tel: 6266 0292
"Choz specialize in Baby's full month cakes and packages. Prices starting from $6.80. A hot favourite among local artistes."
Tel: 6235 2281
"Partridge Pear provides you with a fabulous selection of unique edible party favours and adorable themes for baby full month parties, birth announcements bashes, baby showers, birthday parties and all life's special events. They personalised birth announcement, baby's full month, birthday party gift favours, gifts and cards."
Tel: 6728 3140
"Sweetest Moment specialize in baby's full month packages & cupcakes for all occasions like baby showers and birthdays. There are different packages (Classic to premium) to choose from, prices stat from $5.90 per box. Sweetest Moment Vouchers are also available."
Tel: 6286 2553
"PAPAMAMA understand the importance of a baby full month celebration because we are parents too. They offers a wider range of Baby Full Month gift packages, from choices of traditional flavours to western treats or mixture of both, which are tastefully packed in our premium boxes. Our Full Month gift packages also include a laminated personalized Baby Card, complete with baby's photo and a message of your choice. Prices start from $6.90.
Tel: 6385 0038
"Full-House's food are freshly baked and packed the very morning before delivery to ensure on the freshness! There are different packages to choose from prices ranging from, prices start from $7.50 per. Mummies and Daddies can customise Baby Cards which will be given complimentary in all our full month packages!"
Tel: 8100 0880
8. Swee Heng (Halal Certified)
"Swee Heng strives to provide the best for their customers so they ventured into the concept of having a bakery in the shop to provide fresh bread right from the oven. There are Baby Full Month packages to celebrate your little bundle of joy. Prices starting from $8.80."
Tel: 6755 0300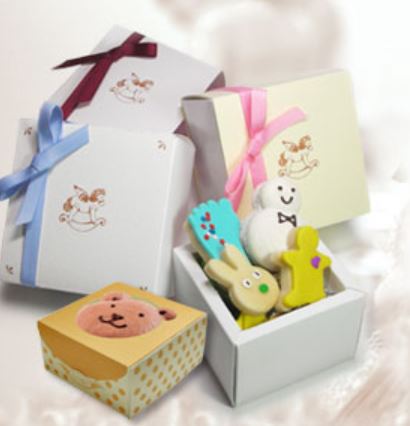 "Gobi puts their hearts into creating and preparing every little detail and hope to bring a breath of whimsical charm to the most dreary of days. There are different packages to choose from, prices starting from $11.60 per box."
Tel: 6345 2127
---
NEWLY ADDED!
"Lulu's pride themselves to be the first in Singapore to provide a big range of novelty theme boxes for Baby Full Month Packages that come with a baby message card in a generous 4R size which is printed in glossy photo quality! With a great team of in-house designers, new theme boxes are launched from time to time to delight the customers. You will definitely find a theme box that you love! Prices start from $6.50."
Tel: 6693 3160
Email: order@lulus.com.sg / contact@lulus.com.sg
"Babyinlove provides unique selections on baby shower packages /full month thank you gifts/first month announcement favours in the form of baby shower cookies, baby shower candy with personalised label, signature swiss roll, variety of cupcakes and lavender tea leaves with personalised labels. They offer standard Baby Shower (Full Month/First Month) Packages, or you can even mix and match your own favourite items. Prices start from $7.10."
Tel: 9628 2098
Email: sales@babyinlove.com.sg
"At Teapot, each cake is made-to-order to ensure that it maintain its freshness and tastiest form. Their promise to deliver fresh cakes using the finest ingredients give us the extra assurance that our friends and family member will enjoy this occasion as much as we do! Prices start from $8.90."
Tel: 6896 7757
Email: info@teapot.com.sg
"Jara Petit Cheesecups is a homegrown bakery specialising in cheesecakes. Other than Cheesecups, the bakers – Jia Hui and Cara have also thoughtfully created the delectable and adorable Cheesecake Jars which are perfect as gifts and desserts for every special occasion. Aren't they special? Prices start from $10.00."
Tel: 6338 9335
Email: info@jara-petit.com
"Chyn started off selling bread and cakes before providing full month packages and wedding gift pack services to families celebrating their joyful occasions. They were the first company to have the names printed on the boxes of the gifts packages. Prices start from $6.30."
Tel: 6556 1311
Email: order@chyn.com.sg
"CooChiCoo Singapore brings your baby's full month announcement to a more memorable way yet still keeping some of the must-have traditions. We love how they introduce our precious little one and thanking well wishers with gift packs that are unique. You can be sure most family members and friends will remember the occasion for a long while. Prices start from $8.70."
Tel: 9828 2674
Email: coochicoo.sg@gmail.com
"Bengawan Solo believes that the first celebration of new life starts right on their every first month. Their delicious and special cakes and kuehs are a favourite among the young and old. They provide 3 different baby full month packages with 9 different cakes to choose from. Prices start from $8.80."
Tel: 6756 9088
Email: feedback@bengawansolo.com.sg
Read more:
12 Best Studios To Take Newborn And Baby Photography In Singapore
12 Incredible Party Venues For Young Children
By Crystal Tan