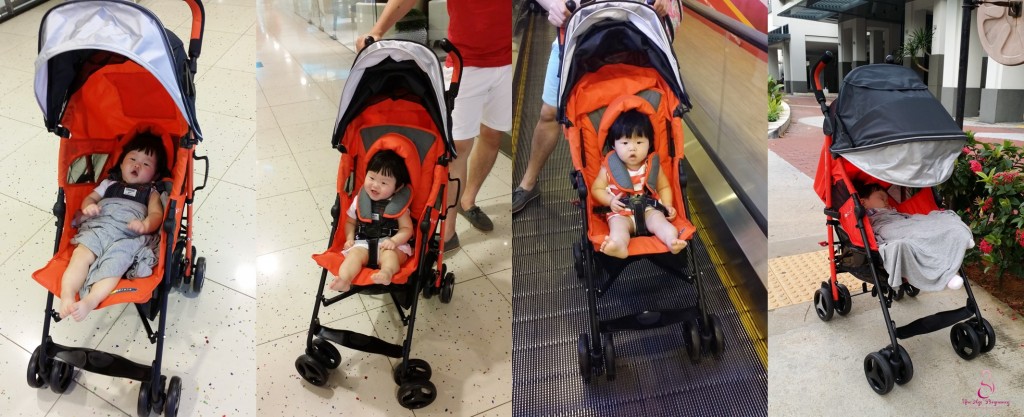 Heading out with a baby equates to lugging around tons of baby's essentials and a stroller is one of the must-bring items when we're out. It allows baby to enjoy some time on her own to see what's happening in front of her while we go places, instead of us having to carry her all the time.
Between the husband and I, we knew that a lightweight stroller was a key item to get during our preparations for baby Vera's arrival. So when we were asked to try out a spanking new ride – the Bonbebe Bolt 2014 – we were happy to know it met our very first requirement of a stroller!
After our little rider has taken it out for a few spins, here's why Bonbebe Bolt scores:
1) It weighs only 6.4kg but it's sturdy enough without wobbly rides. Maneuvering can be done with ease and at the same time doesn't sway too much when making turns or going over uneven grounds. Baby V can sleep through without being awaken due to a bumpy ride.
2) Easy hand recline makes it a breeze to adjust according to baby's needs – simply lift the lever and move the back rest using just one hand. We like that the sitting upright position is comfortable for her to have a good view in her seat. It also doubles up as a seat for her during our meals when the public high chairs don't look too clean. When she's sleeping, the reclination can be adjusted easily by moving the back rest down completely.
3) Compact when folded, takes up lesser space in the car boot or during storage at home.
4) No need to buy additional accessories – shoulder pads, hugger and seat cushions come together so we didn't have to get them separately.
5) Canopy adjustment is not noisy – what do we mean? Because our current stroller has a canopy that is fitted with vanes (imagine those traditional fans used for Chinese dance?), whenever the canopy needs to be lowered, there are sounds that come with the movement and we have to be ultra-slow and careful if baby V is snoozing in there. Bonbebe Blot's canopy is a breeze to use in this instance.
6) Easy-to-snap-on 5-point safety belt, is convenient when buckling up. No fumbling when trying to put your baby in.
7) Adjustable leg rest makes it toddler-friendly, so baby's "car" can be used for longer but bearing in mind not to exceed the weight limit of 25kg.
The Bonbebe Bolt is fuss-free and easy-to-maintain; simply remove the seat cushions and accessories to clean. Because baby Vera has had her snacks in it, we get surprise crumbs and food remnants in there too, so it's important to maintain hygiene and cleanliness after every use.
The Bonebebe Bolt 2014 comes in 3 pretty colours (Red, Violet, Khaki) and retails at SGD$359.
Available at Major Departmental Stores (OG, Isetan) and Baby Care Stores (Kiddy palace).
– Cindy Gan
Specially sponsored by Infantino