Weekend is family time right? Yes… but that means all meals are with your children too. It's easy if your children are older and not so good at drawing attention to themselves (and to you) with wailing, tantrums and drama. Conversely, it's difficult if your children are still very young, prone to making noise, throwing tantrum, getting restless and constantly needing your attention – so much so you wonder why bother to drive/ travel and spend money to eat out.
So top of the list of what parents need to help make dinner worth the money and effort are the following items, some ranging from very basics to the 'luxury' ones like a playground/ play corner or even having a staff to entertain the kids while you dine.
The lists of must-have in a kid-friendly restaurant: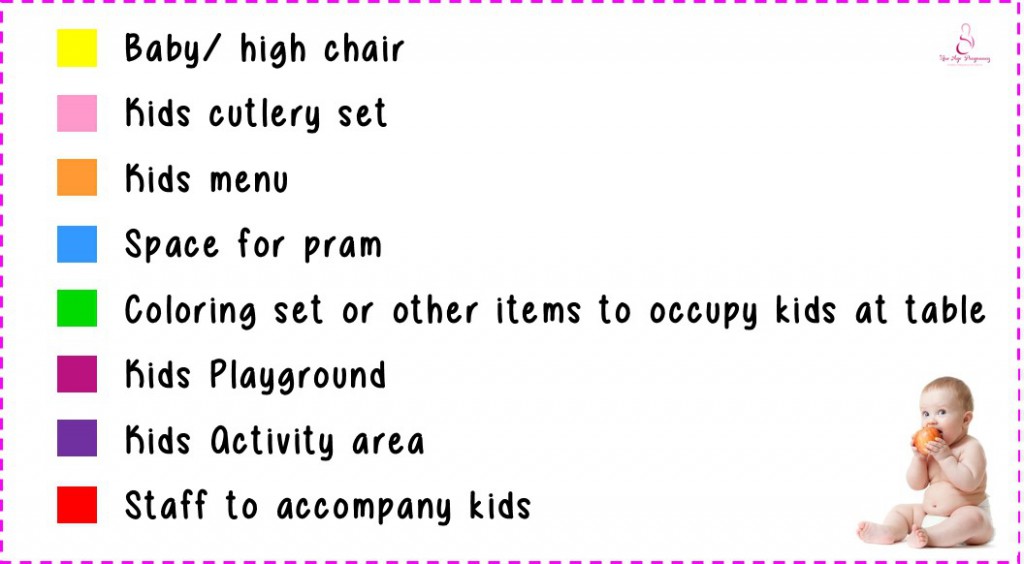 Instead of visiting the restaurants, the above list is emailed to restaurants to see if they have the above kids-friendly items. Based on the list, the Top 8 restaurants with the most 'have's are listed. So, here we go!
Nook : House of Pancakes
Nook is a DIY pancake house where you and your kids get to design your own pancakes. If parents prefer to eat something else, they offer salads, soups, brioche, eggs and toast for breakfast too. They have all the first 6 items listed, except instead of kids playground, Nook offers a kids activity area and a kids' wash-up area – basin station!
Contact details and operating hours
Address: 21 Lorong Kilat, Bukit Timah, #01-03
Singapore 598123
Opening hours: 10am to 10pm on weekend, daily except Tuesday
Website: http:/nook.sg
Tel: 64661811
Poppies Bistro Bar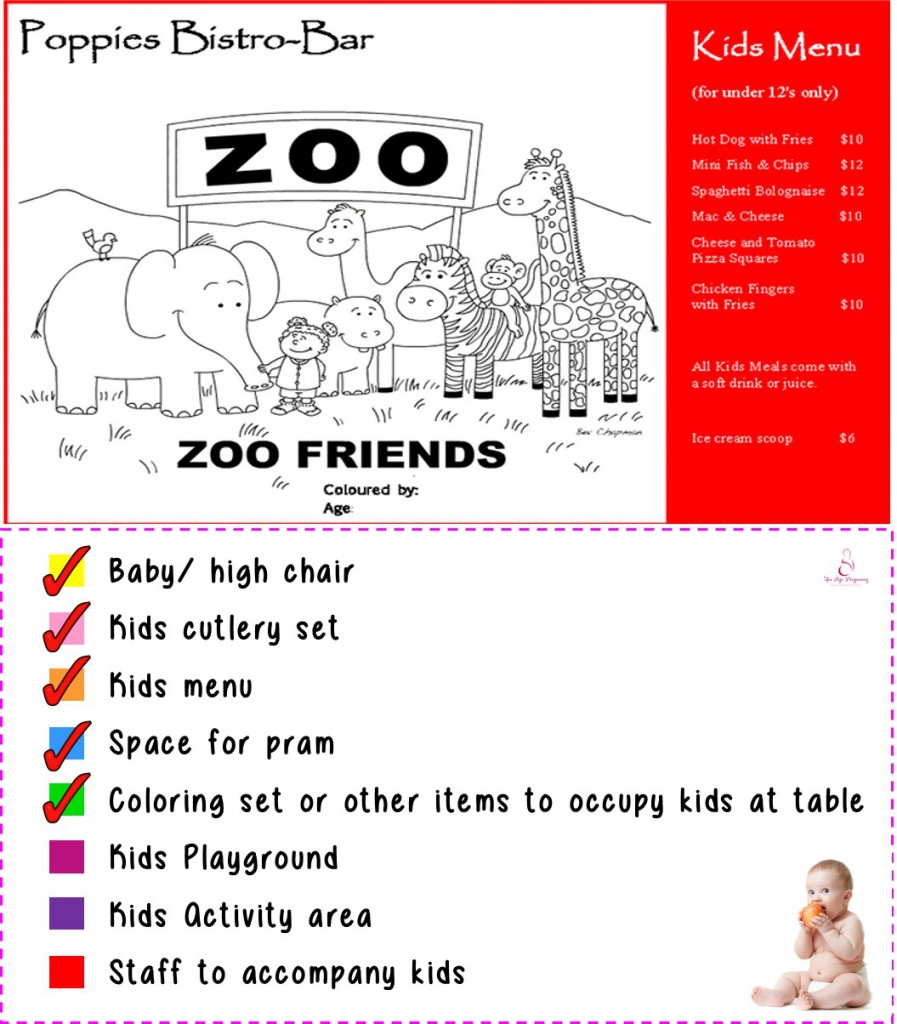 Poppies serve healthy European dish and have a fun kids' menu that doubles up for coloring. During weekend, child eats free from 10am – 7pm for every adult main course purchased. They have the first 5 items but not a playground or activity area for children. However, quite a lot of online reviews sang praise over the kids' friendly atmosphere!
Contact details and operating hours
Address: 53 Upper East Coast Road, S455214
Opening hours: Monday – Friday from 5pm – 11pm; Saturday and Sunday from 10am – 11pm
Website: www.poppies.com.sg
Tel: 6445 4405
EatPlayLove Café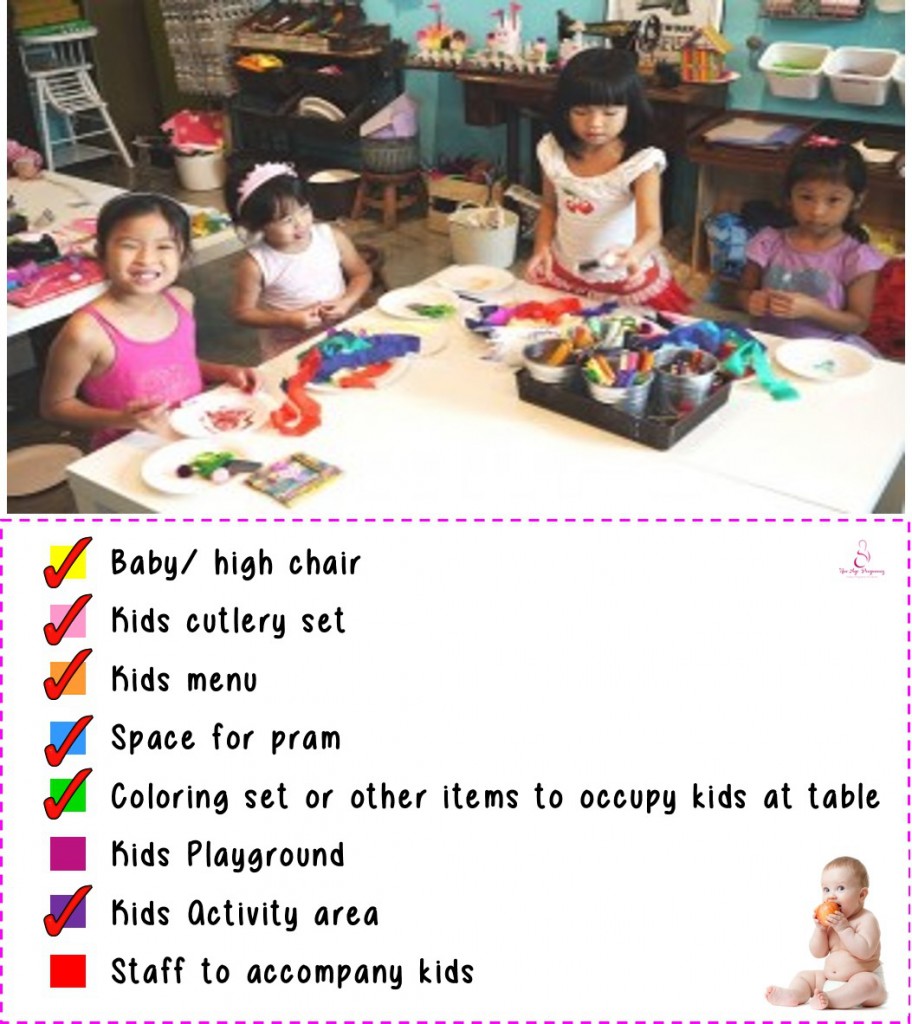 This café serving Thai and western food with a craft corner. At $5 for first two hours on weekday ($5 for first hour on weekend), there is free-flow of art materials for kids to create crafts while parents enjoy their meals. They have the first 5 items along with the kids' activity area
Contact details and operating hours
Address: 28 Aliwal Street, Aliwal Arts Centre, #01-07
Singapore 199918
Opening hours: 12pm – 10pm daily except Tuesday
(Kitchen closes from 3 to 6pm, except weekends and public holiday)
Website: http://www.eatplaylove.com.sg/
Tel: 6444 6400
BrusselsSprouts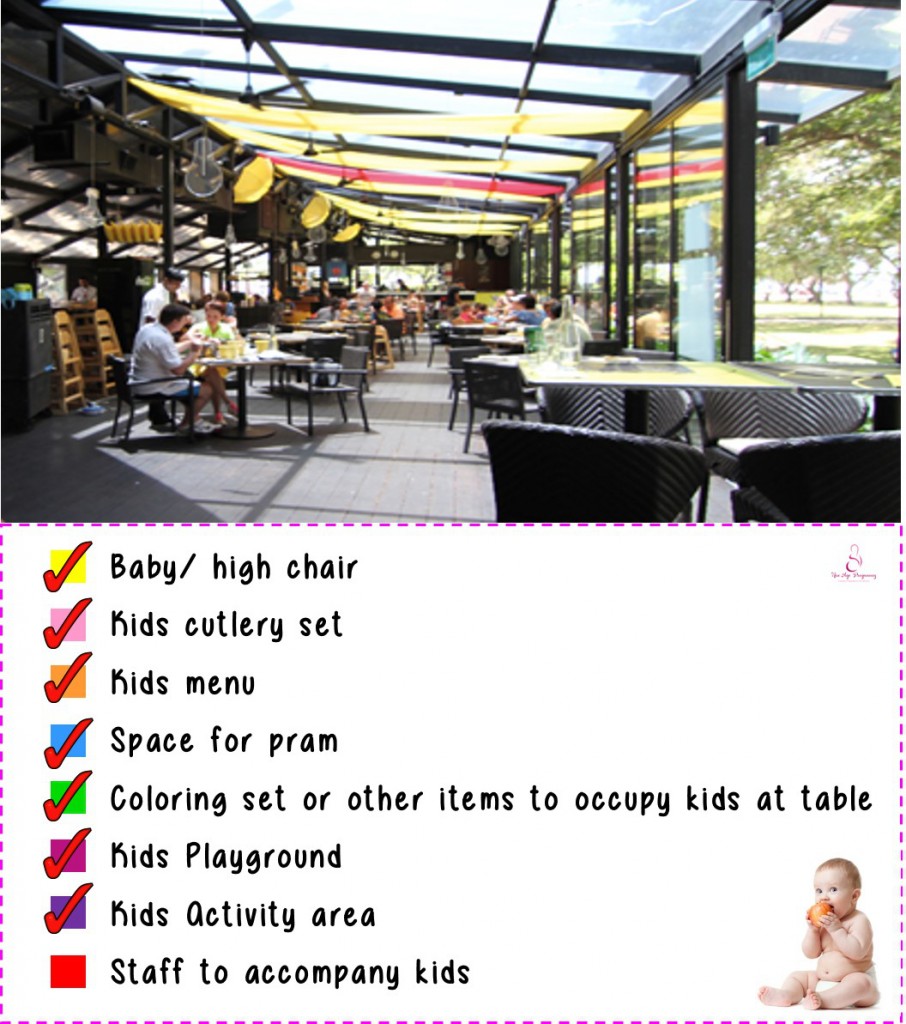 BrusselsSprouts serve Belgian food, with beer and mussels and also kids menu featuring different choice of salads. For their Big Splash location, they have both an outdoor and indoor play area so it's all the first 7 items listed. BrusselsSprouts has received great feedback from parents saying that it is relaxing to dine at their restaurant as their children play within their line of sight.
Contact details and operating hours
Address: 902 East Coast Parkway, Block F #01-27 Big Splash
Singapore 449874
Opening hours:
Saturdays: 12PM to 11PM
Sundays: 10AM to 11PM (Only at Big Splash)
Close on Monday
Website: brusselssprouts.com.sg
Tel: 6346 4344
Timbre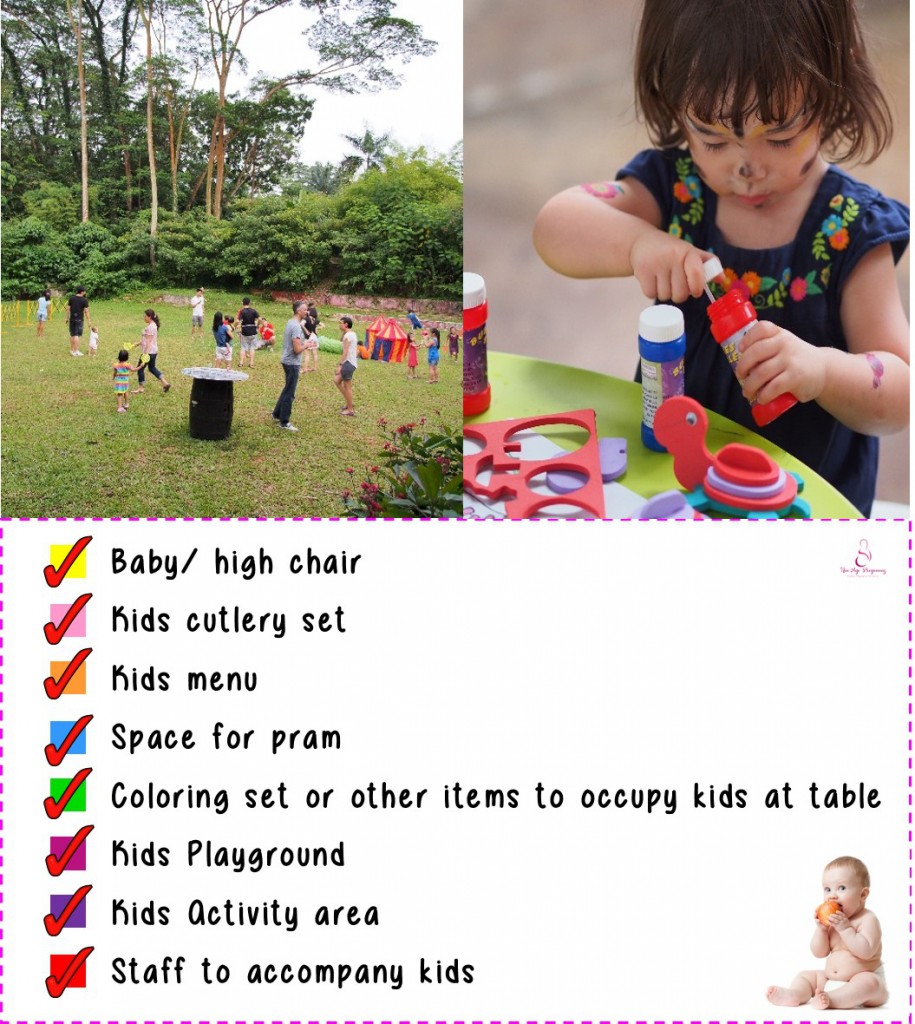 Timbre serve Western food and have kids menu every Saturday which includes butter beer inspired by Harry Potter and berry smoothies. They have all the kids' friendly items listed, including staff to help out kids during their Saturday Social BBQ every 1st and 3rd Saturday of the month from 4 to 8pm. There is complimentary themed activities that include arts and crafts, temporary tattoos and game stations. The activities seem so much fun that likely parents may join in rather than opt for 'me' time.
Contact details and operating hours
Address: Timbre @ Gillman
9A Lock Road, Gillman Barracks, Singapore 108926
Opening hours:
Monday to Thursday: 4-11pm; Friday and Saturday: 5pm-12.30am; Saturday BBQ 4-8pm
Sundays: 10AM to 11PM (Only at Big Splash)
Website: www.timbregroup.asia/timbresg
Tel: 6694 4201 (call after 3pm)
Treehouse Café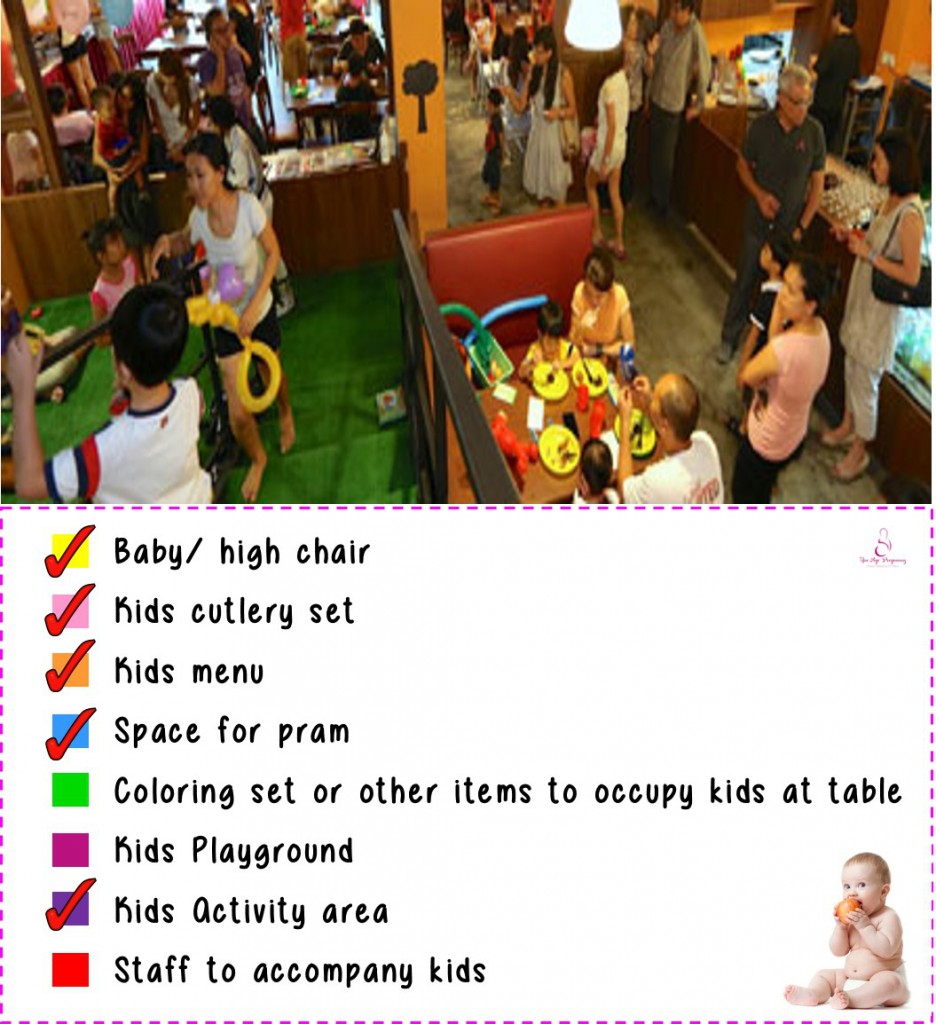 This café serves both Asian and Western food and have kids' menu available (first 4 items). They have a kids' area that has educational and art and craft play to promote creativity and family bonding. The best time to go will be on Sunday about noon to 2.30pm where art and craft and balloon sculpture activities alternate on Sunday.
Contact details and operating hours
Address: 200 Turf Club Road #01-17, The Grandstand, Singapore 287994
Opening hours: Open daily, hours for Saturday 9am – 10pm; Sunday & PH : 9am – 9pm
Website: www.treehousecafe.com.sg
Tel: 6469 0282
The Bank Bar + Bistro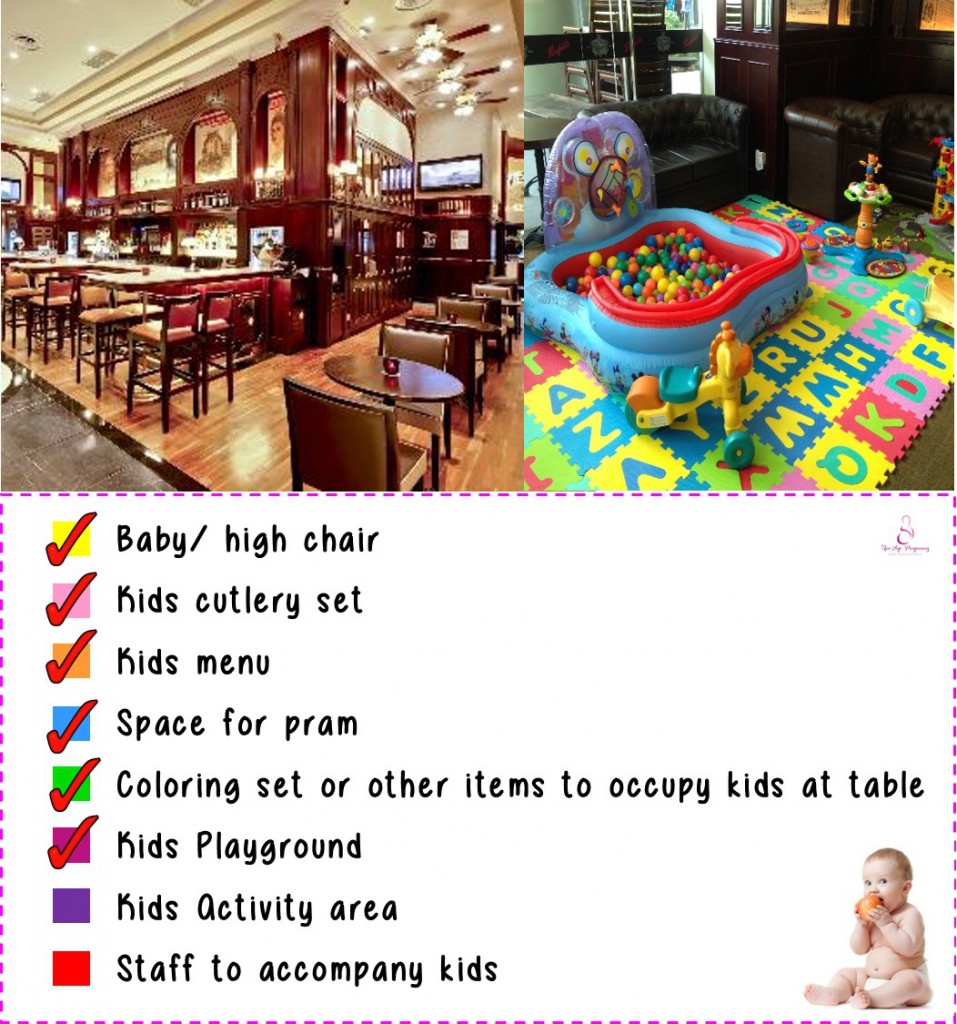 This is a premium restaurant serving Western food, yet accommodating for children – thus parents can treat themselves to a nice meal with the kids being occupied at the play area. They have the first 5 items and a playroom which is open from 9am to 6pm on weekend and public holiday.
Contact details and operating hours
Address: One Shenton Way, #01-01 One Shenton, Singapore 066803
Opening hours:
Monday, Tuesday & Thursday: 11 am to 12 am, Wednesday & Friday: 11am to 1am., Saturday, Sunday & PH: 9am to 12am
Website: http://www.thebankbar.com
Tel: 6636 2188
District 10 at UE Square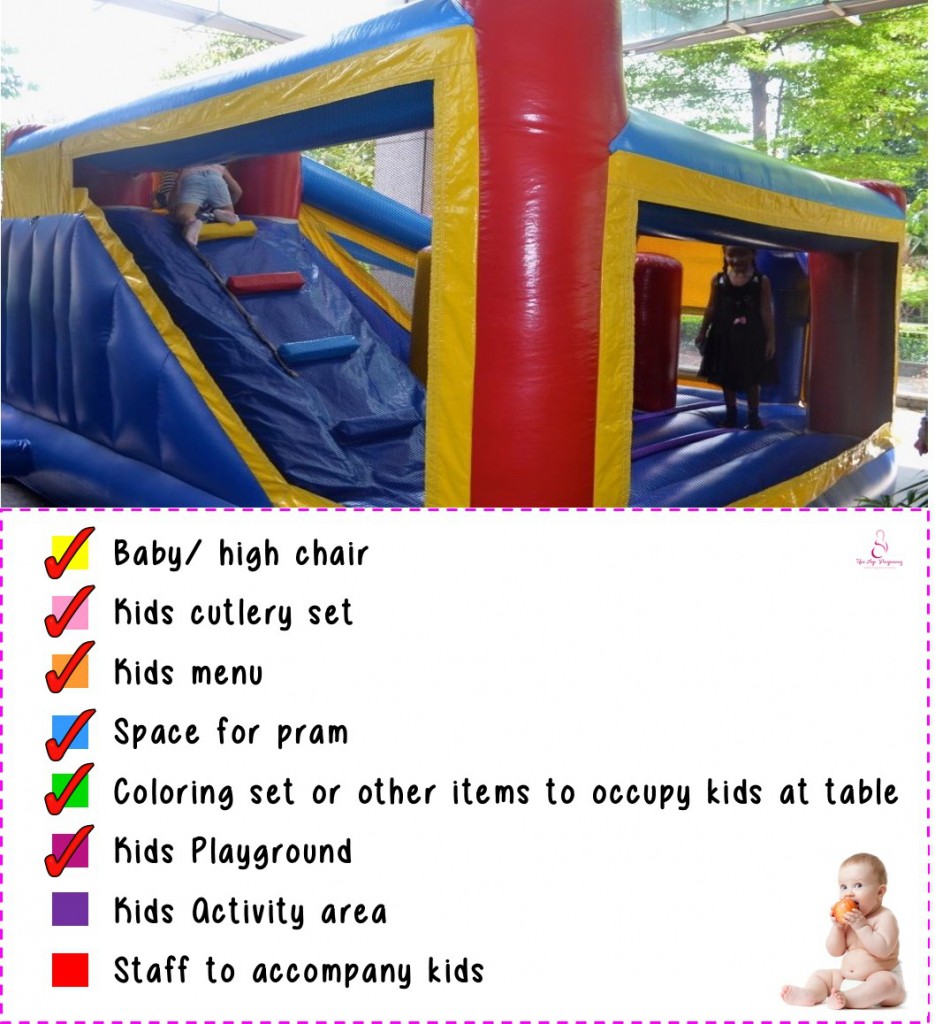 This serves western food with a bouncy castle for children to play. It is inflated on Sunday (11am to 3pm) and located where parents can dine and keep an eye on their child. They have all the first 6 items and the bouncy castle is really a draw for kids and for parties!
Contact details and operating hours
Address: 81 Clemenceau Avenue #01-15/16/17 UE Square Shopping Mall Singapore 239917
Opening hours: Operates daily with slight difference in hours
(Sunday bouncy castle brunch hour 11am to 3pm)
Website: http://www.district10.com.sg
Tel: 6738 4788
By Mei