If you are thinking of getting a toy to engage your baby and yet, worried about its age-appropriateness and safety features, we have a great recommendation for you!
Check out Scholastic Silly Froggy Toy Rattle that is specially designed for babies age 1 – 18 months.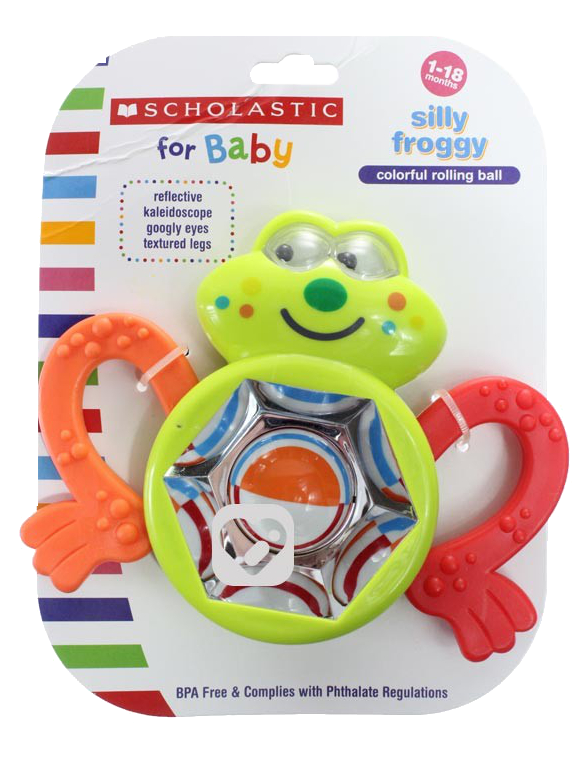 Why choose Scholastic Silly Froggy Toy Rattle?
1. It is a interactive toy that is made of high quality material to encourage interactiveness. It is BPA Free which is an essential for baby products.
2. Babies are sensitive to sounds and bright colored items and Silly Froggy make the mark.
3. Babies and toddlers learn through their senses. The Silly Froggy Toy Rattle has whimsical googly eyes that move and a fun colorful rolling ball on the froggy's tummy that will excite the baby and promote their fine motor development.
4. Babies and toddlers love to put things in their mouth to stimulate their gum (teething), This Silly Froggy Toy Rattle comes with teethable froggy legs. Perfect for teething children as it helps to sooth their gums.
5. Young children love mirror! This Silly Froggy Toy Rattle comes with mirror-like reflective surfaces for a variety of fun effects that can enhance children's imagination. It can also act like a kaleidoscope to heighten the interactiveness and strengthen children's concentration skills.
Check out the testimonial from the parents:
"It's very eye catching and the swirling colorful ball in the middle is very engaging for my baby! Furthermore, the mirror reflections makes it all the more interesting for him!"
– Aylicia

I myself loved the concept of this toy even before handing it over to my toddler.The colourful rolling ball with the mirror is giving kaleidoscope effect which is very good for toddlers imagination. Usually have seen that baby keep on moving the toy ball to see the effect but here it is so prominent and googly eyes are too cute. Another good thing is the froggy legs which serves dual purpose to play. hold and act as a teether perfect for my teething toddler.One thing which we all parents look for in all baby products and this silly froggy too have is BPA Free.
– Pooja Kawatra
The toy is cute and colorful but 1 thing to note is that the toy is very hard and my son tends to accidentally drop the toy on his face as he doesn't hold the toy for long as he is just 5 months plus.. maybe the whole toy can be made of the material as teether so he can bite anywhere and will not hurt him when it dropped on his face..but overall this toy is very fun as he see the ball rolling and the mirror reflects the different designs. It is also has 2 handles for him to hold easily and  to play with it.
– Jia Hui

First day of trying it, my boy trying his best to find a way to play with it. With my help, he manage to get a hold on it. After a couple of days, he seems to love the toy and it had become his favourite toys now. The handle is easy to hold and my boy make it as his teether. He love biting it and also i realise that he talks to the 'froggy'
I find it really interesting as he hardly like something and get a hold of it. I am so happy that finally i get something that can occupy his time while im doing house chores.
– Nor Aniza Binte Abdullah
Specially sponsored by Infantino